AT40 = 35.0% of stocks are trading above their respective 40-day moving averages (DMAs)
AT200 = 48.9% of stocks are trading above their respective 200DMAs
VIX = 16.0 (volatility index)
Short-term Trading Call: neutral
Commentary
The sellers finally put on a show complete with follow-through and a strong finish.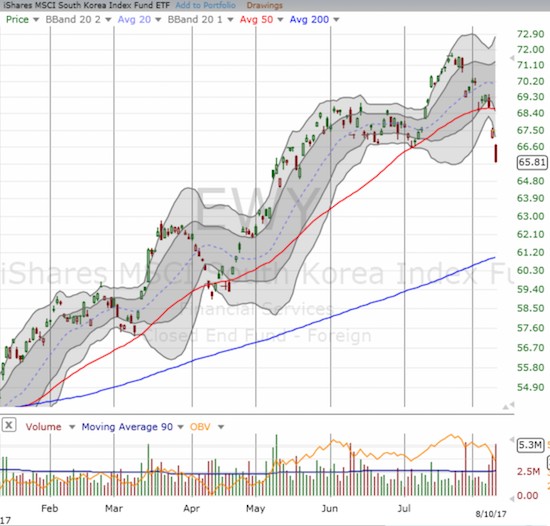 The iShares MSCI South Korea Capped ETF (EWY) confirmed a rare 50DMA breakdown in a sign that market participants may actually be thinking something is amiss on the Korean peninsula. EWY is down 7.5% from 2017's high but still up 23.7% year-to-date.
The S&P 500 (SPY) cleaved right through support at its 50-day moving average (DMA) to end the day with a 1.5% loss. The Nasdaq and PowerShares QQQ Trust (QQQ) each similarly broke down with losses of 2.1%.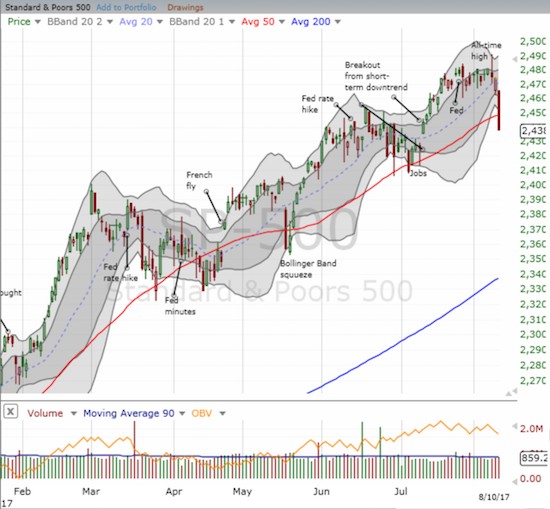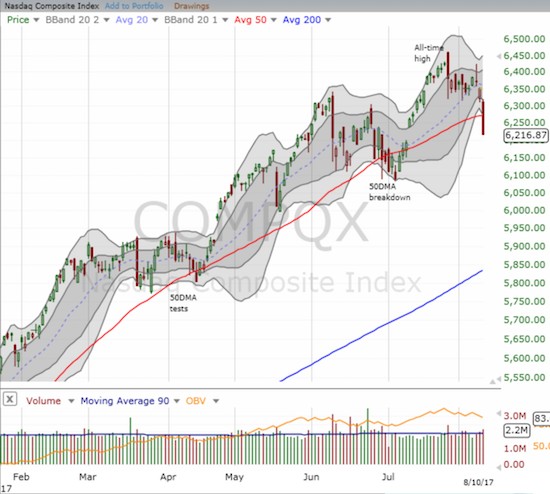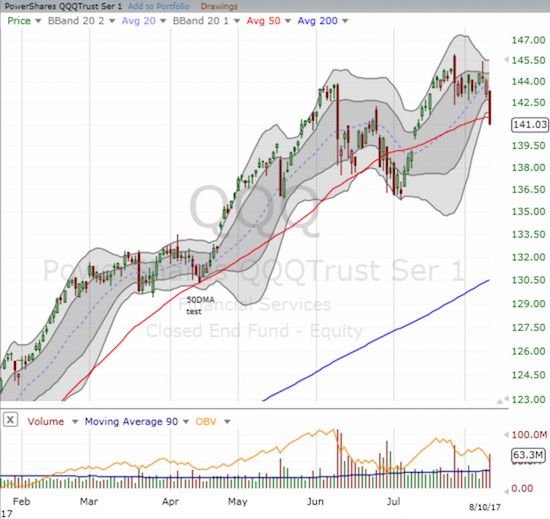 These breakdowns represent a rapid resolution to the bearish divergence that brewed all month and came to a head on Wednesday. While this swoon is just one day of selling so far, it provides yet one more powerful example of the importance of paying attention to bearish divergences. For many who do not use the tool of AT40 (T2108), the percentage of stocks trading above their 40DMAs, today's sell-off came as a complete surprise; perhaps the selling even seems like a complete contradiction to all the days the market spent yawning about the very things used to explain this sell-off (now mainly the heating warlike rhetoric between U.S. President Donald Trump and North Korean President Kim Jong Un). With AT40 in full view, even the casual observer...
More