Coffee - KC1! - Washed out to an old base area - buy on strength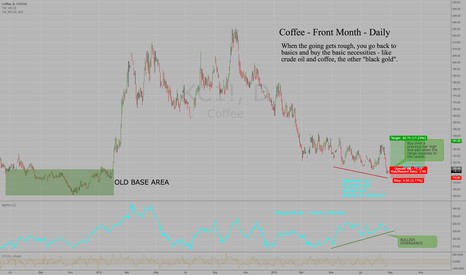 When the going gets rough, you go back to basics and buy the basic necessities - like crude oil and coffee, the other "black gold".

Look at the divergence in the RgMov indicator which is making higher lows while the recent price action is lower lows. If we get a turn and some upside range expansion (where the market is UP by more than yesterday's trading range), then you get a great, reliable signal to enter the market.

Buy stop in over a previous day's high and target a move up to 141. Stop loss at 3 ATR(11) or 113 to 108 area. I don't want us all to have the same stop loss. This is a "front month contract" so look at September, then December.

Good fortune.

Tim

PS - I hope you all have re-looked at my "2015 Stock Market Forecast" for review and then you can laugh at the mainstream media's coverage.