Freeport-McMoRan Inc. FCX is a mining giant that is primarily engaged in mineral exploration and development, mining and milling of copper, gold, molybdenum and silver, as well as the smelting and refining of copper concentrates.
Freeport is taking actions to manage costs and capital spending amid a still challenging operating environment. The company also remains focused on de-leveraging its balance sheet, partly through assets sale.
Let's have a quick look at this mining behemoth's third-quarter release.
Estimate Trend & Surprise History
Estimate for Freeport for the third quarter has been going up over the past month. The company has missed the Zacks Consensus Estimate in all the trailing four quarters with an average negative surprise of 20.1%.
Earnings
Freeport reported adjusted earnings of 34 cents per share for the quarter, beating the Zacks Consensus Estimate of 29 cents.
Freeport-McMoran, Inc. Price and EPS Surprise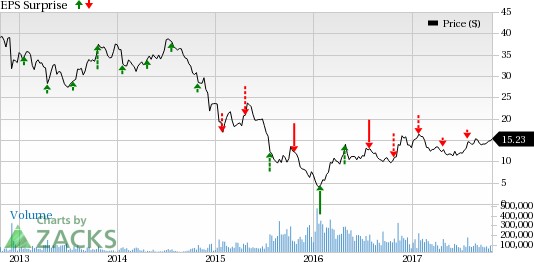 Freeport-McMoran, Inc. Price and EPS Surprise | Freeport-McMoran, Inc. Quote
Revenues
Freeport posted revenues of $4,310 million, surpassing the Zacks Consensus Estimate of $4,104.1 million.
Key Stats/Developments to Note
At the end of the third quarter, Freeport's total debt was $14.8 billion. For 2017, the company expects operating cash flows and capital expenditures to be around $4.3 billion and $1.5 billion, respectively.
Freeport anticipates sales volumes for 2017 to be roughly 3.7 billion pounds of copper, 1.6 million ounces of gold and 94 million pounds of molybdenum, including 1 billion pounds of copper, 625,000 ounces of gold and 23 million pounds of molybdenum for fourth-quarter 2017.
Freeport had no borrowings with $3.5 billion available under its revolving credit facility at the end of the reported quarter.
Zacks Rank
Currently, Freeport has a Zacks Rank #2 (Buy).
Market Reaction
Freeport's shares were up 2.5% in the pre-market trading following the release. It would be interesting to see how the market reacts to the results during the trading session today.
Check back later for our full write up on Freeport's earnings report!
Zacks' Hidden Trades
While we share many recommendations and ideas with the public, certain moves are hidden from everyone but selected members of our portfolio services. Would you like to peek behind the curtain today and view them?
Starting now, for the next month, I invite you to follow all Zacks' private buys and sells in real time from value to momentum...from stocks under $10 to ETF to option movers...from insider trades to companies that are about to report positive earnings surprises (we've called them with 80%+ accuracy). You can even look inside portfolios so exclusive that they are normally closed to new investors.
Click here for Zacks' secret trade>>
Want the latest recommendations from Zacks Investment Research? Today, you can download 7 Best Stocks for the Next 30 Days.
Click to get this free report
Freeport-McMoran, Inc. (FCX): Free Stock Analysis Report
To read this article on Zacks.com click here.
Zacks Investment Research