In today's world every day there are new technologies. Therefore, it is hard to predict where the industry will go. But there is one type of companies that have remained stable for decades. One of them is ePlus inc, reseller of IT solutions with customers among big companies and government agencies.
$88.65 per share
Market Cap is 663.27 M
Enterprise Value is 643.11 M
P/E(ttm) is 13.16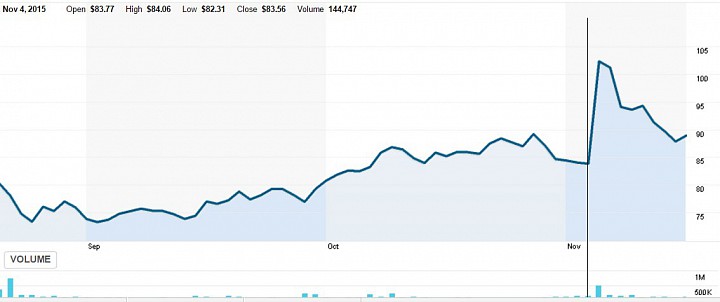 Company Overview
ePlus inc. along with its subsidiaries, is engaged in providing information technology (IT) products and services, flexible leasing and financing solutions, and enterprise supply management in the United States.
It operates in two segments: technology sales and financing sales business segment.
The technology sales business includes sales of company's and third party software, hardware; and offers advanced professional engineering services and third party maintenance services, such as data center solutions, network services, security and wireless solution services, managed services, staff augmentation services, server and desktop support, professional services, business intelligence and data management services, and project management services.
The Company's financing business segment consists of the financing of equipment, including direct financing, sales-type and operating leases, notes receivable, and consumption based financing arrangements, as well as underwriting and management of IT equipment and assets. Its financing operations include sales, pricing, credit, contracts, accounting, risk management, and asset management. This segment primarily finances IT equipment comprising accessories and software, communication-related equipment, and medical equipment. The company serves commercial entities, state and local governments, government contractors, and educational institutions.
The technology segment provides IT services to over nine global IT companies, including Cisco Systems, Hewlett Packard, Apple Inc., Dell and Microsoft as well as state and local governments, and higher education institutions on a nationwide basis, with geographic concentrations relating to the Company's physical locations. The company is authorized reseller from over 1000 vendors, including Check Point, Cisco Systems, Dell, EMC, FireEye, F5 Networks, Hewlett-Packard, Juniper, McAfee, NetApp, Nimble, Oracle, Palo Alto Networks, Pure Storage and VMware, among others.
The financing division is engaged in providing solutions to government and government-oriented entities. In November, 2013, the company's subsidiary, ePlus Technology Inc, acquired AdviTor Inc. In August 2014, the Company's subsidiary, ePlus Technology, inc., acquired operating assets and assumed certain liabilities of Granite Business Solutions, Inc. dba Evolve Technology Group (Evolve).
Investment Thesis
We consider ePlus as a fast growing company with the strong financial performance. The company's go-to-market strategy focused on complex, service-led IT solutions for their commercial,state and local government and education customers, has demonstrated growth in both net sales and gross profit, up 13.0% and 12.5%.
Results from second quarter fiscal year 2015:
- Consolidated gross margin of 21.4%; gross margin on products and services of 19.4%
| | | | |
| --- | --- | --- | --- |
| Indicator: | first half of 2015 | first half of 2014 | Growth |
| Technology segment net sales | $326.0 million | $288.4 million | 13.0% |
| Financing segment net sales | $10.3 million | $9.1 million | 13.2% |
| Non-GAAP gross sales of products and services | $431.1 million | $392.7 million | 9.9% |
| Consolidated gross profit | 131.1 million | $120.4 million | 8.9% |
| Consolidated operating income | $41.7 million | $35.1 million | 19.0% |
| Net earnings | $24.5 million | $21.4 million | 14.3% |
| Adjusted EBITDA | $44.1 million | $37.0 million | 19.3% |
| Diluted earnings per share | $2.15 | $1.63 | 31.9% |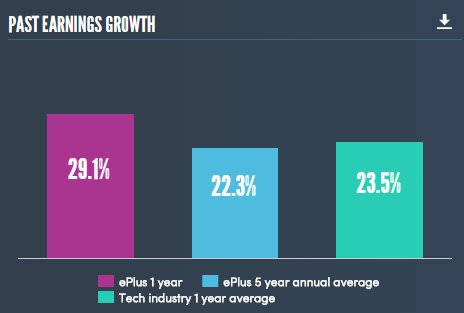 The statistics shows progress on several fronts, including financial results, vendor awards and certifications, and the ongoing growth of the services business. Also ePlus have focused on the fastest-growing segments of the IT industry, including security, data center, and cloud. The company has joined the Cloudera Connect Partner Program, which is most influential community of industry's IT vendors and sellers for Hadoop-based applications. In addition, the balance sheet remains robust, with a healthy cash position, giving the company the financial resources to fund organic growth as well as make accretive acquisitions and we believe ePlus is well positioned to continue to outgrow the overall IT market.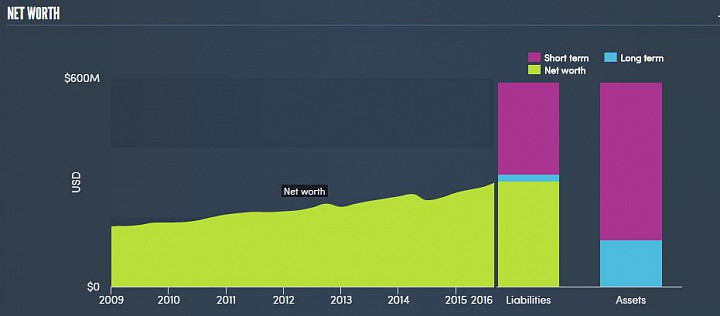 The company is expected to experience positive earnings growth (76.22% over the past 6 months). Annual EPS before extraordinary items for the last 5 years (from earliest to the most recent fiscal year) were $2.78, $2.79, $4.32, $4.37 and $6.19. We think the growth won't stop as the company is going to continue to gain market share and expand geographically, while adjusting the sales mix to emphasize higher-margin services. The long-term debt in relation to net current assets for PLUS is $13.3 million, while the net current assets are $188.6 million, display the attributes of a financially secure organization.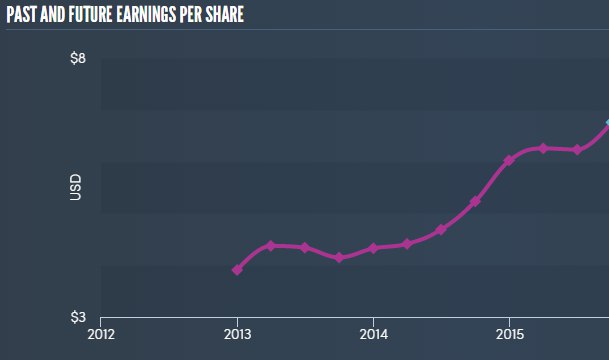 The financial results, fast growing EPS and the plans to expand geographically allow us to identify the company as a fast grower. As P/E is just 13.07, the company will not have a difficult time maintaining a growth high enough to support a P/E above satisfactory threshold for companies with sales.
Valuation
We are using Peter Lynch fair value that applies to growing companies. In this value technique, the fair P/E value for a growth company equals its growth rate, that is PEG = 1.The earnings here is trailing twelve month (TTM) earnings. The growth rate we use is the average growth rate for earnings per share over the past 5 years. Eplus Inc's 5-Year EBITDA Growth Rate is 20.88. Eplus EPS without NRI for the trailing twelve months (TTM) ended in Sep. 2015 was $6.71. Therefore, the Peter Lynch Fair Value for today is $140.10
Key Risks
ePlus inc's key risks are a fall in demand from customers, and problems with vendors. The revenue will decline if current and potential customers delay or reduce technology purchases. This could happen in case financial market disruption and general slowdown of the U.S. economy. Reduction of vendor incentive programs could be also the reason for the decrease in income.
Antifragile
In today's world every day there are new technologies, platforms and needs. Companies that only recently had huge capitalization are now bankrupt. Some trends are replaced by others. 5 years ago Hadoop was the best software for running big-data applications, today apache spark surpasses it in all respects. Such examples are numerous in today IT world. Among the storm of technology, needs and platforms there are companies that for decades remain afloat. ePlus one of them. With more than 1,000 vendors and customers among large companies and government agencies, ePlus can adapt under any new trends and needs, as well as grow with them. Now these are security, big data, cloud and so on. What will be the next? We do not know. But we know for sure that ePlus will continue to offer the best solutions to its big list of customers that is quickly increasing with new companies and government agencies. Such companies as ePlus that have the flexibility and antifragile, intelligent investor should find for his portfolio. If in the future there will be another the next big think, ePlus could offer it to the customers and this is what we called "Antifragile".
Our recommendation:
BUY