Summary
easyJet is going smooth, as expected.
With low amounts of debt, increasing revenues and diversifying its ecosystem, easyJet is firing on all cylinders.
Nevertheless, at its current price, I consider it highly valued and I am waiting for a pullback to get back into the stock.
This article will cover a fundamental analysis of the second largest budget airline in Europe: easyJet (OTCQX:ESYJY)
easyJet has been one of my favorite airlines in the past and I was holding positions many times during the last few years. I've covered this firm quite a few times on Seeking Alpha due to its better fundamentals than large airlines in America such as American Airlines (NASDAQ:AAL) or Delta (NYSE:DAL). I've done some swing trading in AAL from time to time yet easyJet is more suitable as a long-term investment. This is quite rare in the airline industry, as this industry is notoriously known for its poor performance in buy and hold.
In my last article where I discussed Ryanair (NASDAQ:RYAAY) and easyJet (part 2), I concluded that both firms were likely to increase slightly in return even though both were already highly valued. I considered easyJet to have more potential in the short term in comparison to Ryanair as it was valued cheaper. As expected, both went up over the period since my last article and both returned a nice profit of around 10%.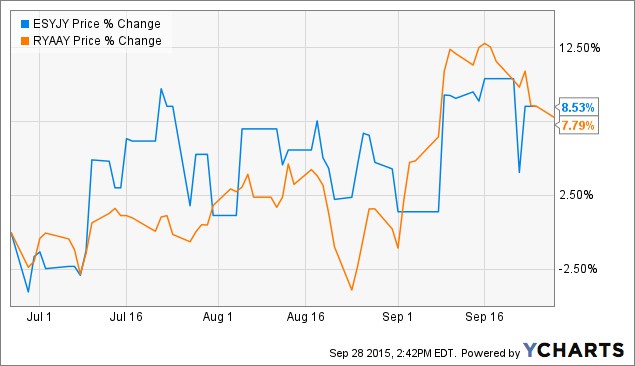 Source: YCharts
Yet, the case still stands that easyJet is valued cheaper in comparison to Ryanair: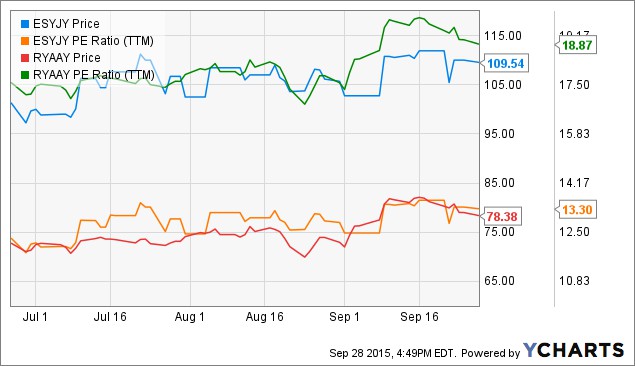 Source: YCharts
Moreover, as I've discussed in my first article covering easyJet, the firm has an outstanding management with an incredible focus on bringing back value to shareholders. As a result, the share price has been outstanding...
More