The EUR/AUD pair has shown some interesting price action, with a bottoming pattern following a sharp slide downward.
EUR/AUD - 4HOUR: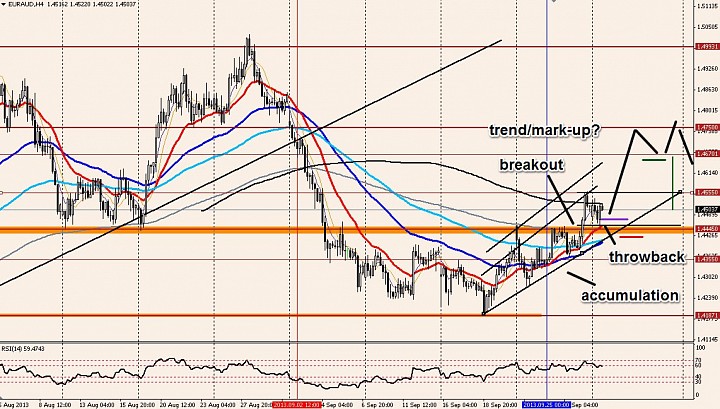 After the sharp decline in late Aug-early Sept, the EUR has put in a bottoming formation, over 3 weeks, with the neckline/resistance level around 1.4450.

In the middle of last week, the EUR had a breakout though that neckline, advancing to 1.4555, about 100 pips.

After the breakout, you would like to see a throwback, which we got to start this week. The old resistance pivot 1.4450, did get tested as support (this is also the 21-ema). 

In the 1-hour time-frame the throwback looks like a flag pattern has been put in.

If there's further demand for EUR over the AUD, then the next phase here would be a bullish swing, know-as the "mark-up" phase. It should exhibit trending characteristics. 

The targets for the mark-up phase could be from 1.4670 to 1.4750, which could come in one initial burst. Then, you would expect some some corrective action to set in.
Here's an example of the swing, we may have completed the 1-2-3 points.


So, I'm looking for the continuation here. As long as we we stay above 1.4450 (or its vicinity) I'll be on the lookout for bullish opportunities.

See the EUR/AUD below: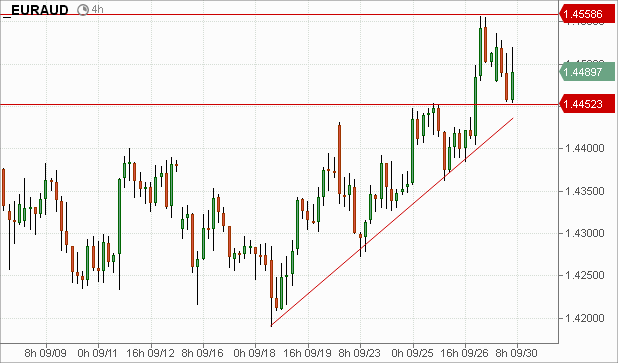 - Nick