The GBP/USD is continuing to rebound. In July and August, the pair has neutralized a prevailing downtrend. But as price rises towards 1.35, how will the market react to GBP/USD at a key resistance?
GBP/USD 4H Chart 9/7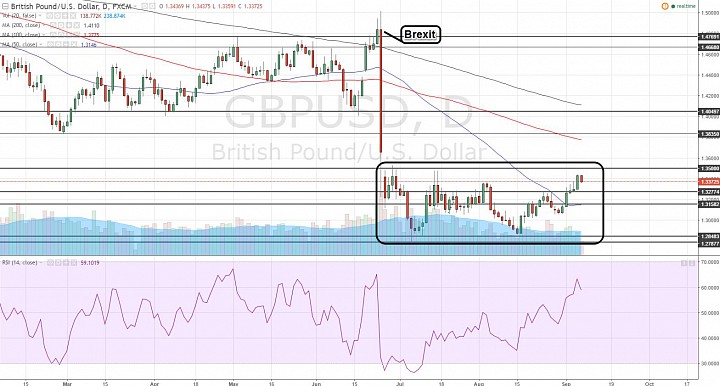 (click to enlarge)

Consolidation range:
- After the fallout from Brexit, GBP/USD was able to find support around 1.28, establishing a couple of pivots at roughly 1.2790 and 1.2850. 
- To the upside, we can see resistance at 1.35. Really it was the 1.3380-1.35 area that provided support throughout July and August. 
Resistance:
- Price cracked 1.34 and thus tagged the above mentioned resistance area. 
- Today, we are indeed seeing some selling. 
Technical clues
- The middle of the range is the 1.3150-60 area. 
- If there is a pullback, we can limit our bearish outlook to this area, maybe even higher at 1.32. This would be a conservative bearish outlook that considers the prospect of GBP/USD finding a price bottom and rebounding towards 1.40. 
- Obviously, the bullish outlook towards 1.40 would require a break above 1.35. I am just saying that if price holds above 1.32, the 1.35 resistance will be pressured because the price structure would start to look like a bottom. 
Bearish scenario:
- Now, if price fails to break above 1.35 and falls below 1.3150, I would not be as bullish, and would maintain a neutral and even slightly bearish bias for the pair. 
- In this scenario, I would anticipate a revisit of 1.30, then perhaps towards the 1.2850 area.