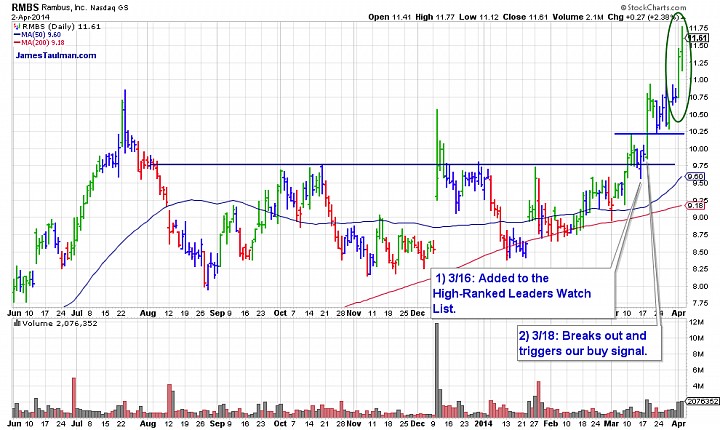 Continued charging higher this week with volume-backed gains on both Tuesday and Wednesday. Thursday's action was only slightly negative, yet there was some selling on Friday along with the broader market.

As previously noted in The Sunday Stock Report: "Has built a nice saucer like base and looks poised to now break out. Any trading above our TRIGGER PRICE while volume is at least on pace to be +50% above average, would have it flashing our technical buy signal…
This Semiconductor leader hails from a very good group, sports decent ranks, and has very good quarterly earnings comparisons. Annual earnings are estimated to fall off for 2014, yet 2015 is showing a potential +91% increase."
RMBS was a most recent addition to our High-Ranked Leader Watch List, making its first appearance in the 3/16 Sunday Stock Report. It broke out and triggered our technical buy signal two days later, as shares traded above our posted TRIGGER PRICE, while the volume that day was clearly on pace to make our posted TRIGGER VOLUME. That bullish breakout action set our BUY PRICE at $10.21.
As noted then – "Breakouts of this nature can be exciting to say the least as they can get volatile. It was an assuring sign on Wednesday morning to see further accumulation at the open, on the heels of Tuesday's breakout gains of +6.5%."
Zacks Investment Research recently upgraded Rambus Inc. (RMBS) to a Zacks Rank #1 (Strong Buy). The upgrade followed positive estimate revisions over the last 60 days.
Going forward, our standard technical strength vs weakness rules still apply, with this past Friday being the first day of any real significant weakness thus far. Our posted support levels should be monitored.
As noted last week – At this point any declines, especially if coupled with volume, would be a concern. (and we did get those on Friday) A break of our noted 1st SUPPORT, which is at the highs previous base, would be a violation.