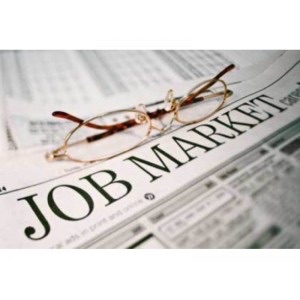 Finding a job is no easy task for most people; I can image how frustrating this must be for someone who is academically prepared to join the workforce. 
When one has not had the privilege to become educated in a country where being schooled is essential to entering the job market, getting employed to make decent earnings can feel as "mission impossible."
An essential attitude to approach the job hunting process is one full of resilience and confidence. This is how you can prepare yourself in order to become successful at getting hired:
A) DON'T SELL YOURSELF SHORT: Know what you are worth: you might not make as much money as those academically prepared for a while, but if you don't give up searching for the right job that fits your criteria, you will one step closer to archieving your goal. You might not be able to charge as much as those who have been schooled but don't charge ridiculously low rates either; do some research to know how much professionals charge in your specific area of interest and set your rates accordingly. Be realistic with your rates but at the same time don't work for almost nothing.
B) TRAIN YOURSELF TO BUILD EXPERIENCE: Something else you can do is to perform odd jobs related to a specific type of arena and keep building yourself in that manner. As you continue to do jobs that have to do with the same branch, you will little by little become more experienced and able to keep all your work on files so you can build a portfolio in addition to using some of your employers as references, especially if you have done a few gigs with them in a consistent manner.