Perrigo Co. Chief Executive Officer John Hendrickson says an activist investor's proposal to sell off the drugmaker's generics unit, which last year generated 20 percent of its $5.35 billion in revenue, isn't as simple as it sounds.
"It ties into everything we do -- the production, the supply, the shipping, the materials, the bottles, the caps," he said Thursday in an interview at the company's Allegan, Michigan, operating headquarters. "We share plants" with the consumer health business.
Hendrickson, 53, is reviewing Perrigo's portfolio as he settles into his seventh month on the job. Already he's is under pressure from the activist investor, Starboard Value LP, which disclosed last month that it held a 4.6 percent stake. The hedge fund criticized the company for mistakes made since the drugmaker rebuffed Mylan NV's takeover bid almost a year ago and urged it to consider a sale of its prescription medicine unit as well as a royalty interest in multiple sclerosis therapy Tysabri.
Hendrickson, who's trying to boost Perrigo shares that have plummeted 55 percent since their April 2015 peak, hasn't decided whether generics will remain. Pricing pressures that have made the business challenging in the past two years aren't likely to get easier, he acknowledged. Yet he also likes the business because generics are profitable.
"Do we have to get it bigger to survive? Can we compete?" he asked. "Those are the challenges."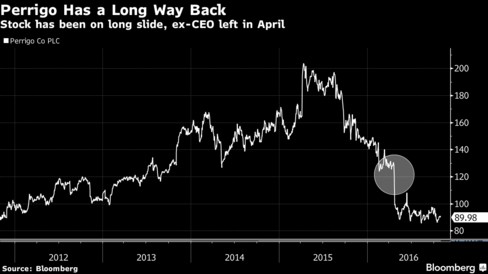 Activist Investor
Hendrickson declined to comment on Starboard's demands, though he said company executives met with the fund managers, as they would with any stockholder.
"We've had those conversations, but it's been the same sort of discussions that we've had with the broad base of our shareholder group."
Speaking Thursday on Bloomberg TV...
More