In the last six years, our
Decision Support Engine (DSE)
has given up some major turns. Commodities have been some of the greatest plays. Always early, but rarely wrong. The DSE warned throughout most of the Summer/Fall that coffee was putting in major lows not seen since '02. We acted told everyone we could.
I referred to my Saudi brother, Abdullah, who had the money to ignore EWT forecasts during the late 90′s coffee crash, as he bought so much coffee futures, he actually took delivery and warehoused the product, "knowing" that he'd make another of his many fortunes on that play.  After the market bottomed in '02, and he was holding millions of dollars worth of coffee, if not tens of millions, he added to his holdings, and rode the price rise all the way from the $50′s to the '11 peak, where he sold in the $250′s.  His greatest lesson there?  He shouldn't be speculating on commodities, but was grateful to Allah for teaching him with profits, rather than losses.  To honor his lesson, he vowed to feed, clothe, and provide medical care for at least 25 people forever.  Perhaps reflecting the number of millions he profited by.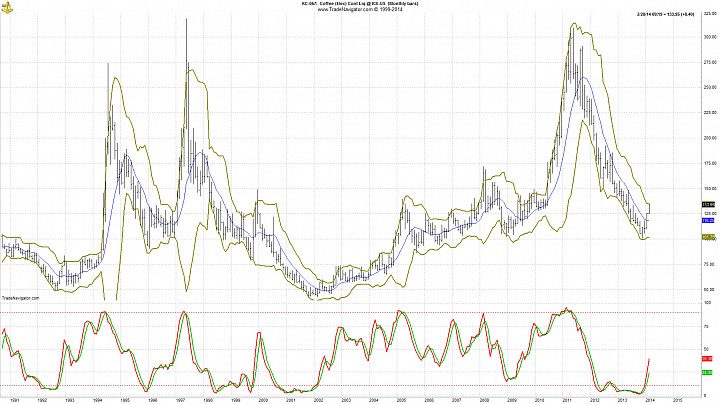 I'm happy he sold in '11, as DSE was beginning to warn of a looming peak.  He has moved on to other successes since, and hasn't participated in the recent low that DSE called for all last Fall. 
BOOMers
, though, that trade these markets have. 
BOOMers
should remember our highlights of coffee, and sugar (which has lagged coffee's bottoming pattern, but now appears ready to rise), with DSE's target of at least 150 for the coffee bounce target, from the low target of the lower 100′s.  With coffee now testing 135 today, nearing the upper 2 sdb around 139, and daily and weekly stochs fully overbought, after only an ABC pattern off the 100 level, DSE now warns to exit longs, and take your profits, while moving some capital to sugar below 16, for its move toward 20, with 24 possible in the coming months.  In addition, soybeans can be bought, but are less clear than sugar and wheat (another DSE buy forecast here), while corn is an immediate sell, into 440, as 375 is more of an ideal low to buy later this year.  Cocoa is like coffee, but even more of an "exit longs/enter short" warning.