Despite a few weeks of weakness and volatility, the two major U.S. stock indexes have yet to fall through Wall Street's version of a floor. And that could signal a market bounce might be forthcoming.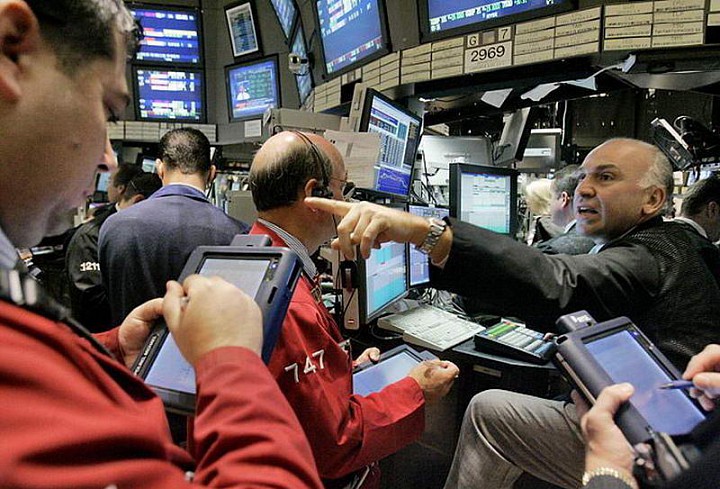 Last week, the benchmark Standard & Poor's 500-stock index took a tiny step below its average price over the past 50 days — a level that has served as both a floor to stop falling prices in recent market drops and a launching-off point for a rebound rally.
Despite a late-day rebound Friday that allowed the large-company stock index to eke out a 0.3% gain for the week — following its worst weekly rout in two years — the index still ended the week at 1931.59, below its so-called "50-day moving average" of 1955.33, through Friday's close.
Stocks, of course, have been weighed down by geopolitical risks tied to conflicts in the Ukraine, Gaza and Iraq, as well as concerns that the broad U.S. market is a tad overvalued.
But Yardeni points out that future returns for the broad-market gauge have been positive when the S&P 500 has been able to hold the key 50-day level. The 50-day moving average is considered a short-term trendline, and the trend stays bullish if the market index can stay above that level.
"That's been a good buying opportunity several times this year and last year, too," Yardeni reminded clients in a research note Monday. "Since the start of 2013, there have been 10 dips to this (50-day) average (not including the current one) that were followed by solid gains."
So far in Monday's trading, the S&P 500 seems to be following its recent trend of bouncing higher after testing, or briefly breaching, its average price over the past 50 trading days. It was up more than 1 points, or 0.6%, to 1,941.77, and rebounding upwards toward its 50-day moving average.
"One of this year's investment themes continues to be 'buy on dips' in the stock market," says Yardeni.
But it's not just the S&P 500 that has avoided plunging below a key price level. So has the Dow Jones industrial average.
The Dow successfully retested its average price over the past 200 days on Friday, bouncing off a key support level of its own, says Craig Johnson, technical market analyst at Piper Jaffray. The so-called "200-day moving average" is considered a long-term trendline, and if a market gauge like the Dow can stay above that key level, or floor, it suggests the uptrend remains intact.
The Dow fell to an intraday low of 16,33.78 on last Thursday, briefly sinking below its 200-day moving average of 16,348.81
After Friday's 186-point rally and today's 48-point gain in early afternoon trading, the Dow is trading above 16,600, well above its 200-day average.
"We'd also note that despite major unrest in the Ukraine and the Middle East, almost all the major indices (including the Dow) are now higher year-to-date despite the bad news," Johnson noted in a report. "Investors continue to be negative about this bull market, as they have been for the majority of the rise, yet the market continues to climb the wall of worry."
The individual charts of most Dow components are still healthy, adds Johnson.
"In addition, 77% of Dow stocks look bullish on … charts, suggesting that the recent pullback has created attractive buying opportunities more than it has resulted in violations of support," Johnson said.
"At this juncture, both the Dow and S&P 500 remain in well-defined uptrends," Johnson concluded.
Source: http://americasmarkets.usatoday.com/