Jim Cramer does not like the set-up of the stock market going into next week. Historically, this is the week that can create collateral damage that can extend to the entire market.
"If you want to buy stocks, my advice is to wait until the end of next week, not the beginning," the "Mad Money" host said.
Going into the week with a tough set-up, any earnings that are less than perfect could leave investors regretting that they didn't take profits beforehand.
With this in mind, Cramer outlined the stocks he will be watching next week:
Apple: This will be the real test to Cramer's "own Apple, don't trade it" philosophy. He expects another no-growth quarter and the bears could be on the prowl in full force. Even worse, the stock has run up into the quarter with the expectation that it won't be bad.
"Believe me, it can be … I expect that this quarter could actually hurt the whole market — yes, Apple is that big — so beware," Cramer said.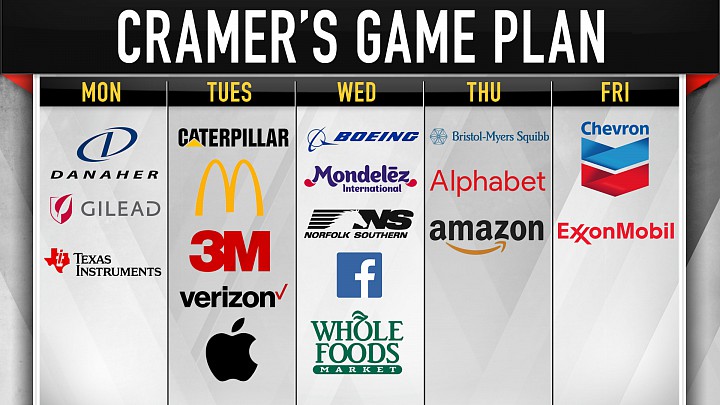 Investment professionals can create machines with fancy algorithms for trading and snazzy software for picking stocks to protect portfolios, but Cramer knows investing all boils down to one word: diversification.
"I am offering a new kind of diversification that can help you, guide you toward what kinds of stocks I want you to have if you are going to manage your money yourself," Cramer said.
So for the retail investors out there, Cramer is sharing his top tips on how to manage your own portfolio.
Cramer recommended a personal portfolio with a minimum of 10 stocks and...
More