When I saw "hawkish" economic data, I mean data that would push the Fed to raise rates. We already saw a rate hike earlier this year and the market believes there will be 2 more. Strong data should help support the USD, and if the data gives the market ideas of 3 more rate hikes, it could push the USD into new highs on the year. 

The data on consumer confidence and housing prices during the 3/28 session indeed boosted the USD/JPY. 

USD/JPY 1H Chart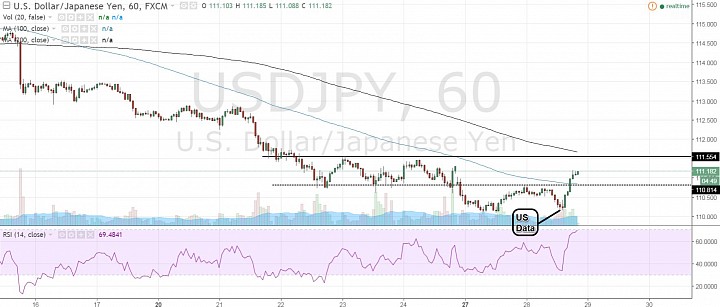 (click to enlarge)

Bullish Reversal?
- The 1H chart shows a bearish market in the past couple of weeks.
- Price was falling towards 110 during the 3/28 session.
- However it stalled during the US session and rebounded after the market digested the US data. 
- So far, it looks like a double bottom.
- Furthermore the fact that the RSI pushed above 60 says that the prevailing bearish momentum is done.
- If the RSI pushes above 70, it would reflect the start of bullish momentum.

Resistance:
- The 111.50-111.60 area will be a key resistance.
- This area involves the 200-hour simple moving average (SMA) as well as a previous resistance. 
- We can expect some selling here, but if the USD/JPY market is indeed turning bullish, price should remain above the 110.80-111 area.
- Also, look for the 1H RSI to hold above 40 after a dip. This would confirm establishment of bullish momentum.
- Note that this scenario means price will bounce off of the 100-hour SMA, which would be a bullish "slingshot" signal. 
- Then, if price rebounds and pushes above the 111.50-111.60 area, the next key resistance will be around 112.80-113, another support/resistance pivot area. 

Bearish Scenario:
- A break below 110.60 would signal bearish continuation.