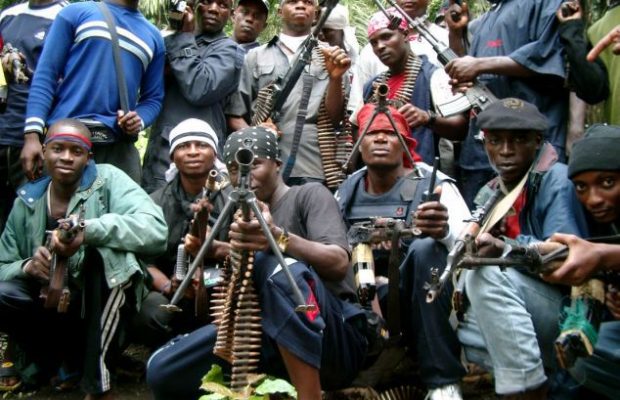 Rent-A-Rebel to the rescue!  
That's right, whenever the oil market needs a lift, there are hundreds of reliable groups of kids with guns and outboard motors who are able to shut down oil production and transportation around the World.  This week, with just 5 days to go until the contract rollover on Friday and 239M barrels of orders piled up at the NYMEX, the best way to boost interest in the contracts you are dumping is to funnel $50,000 to some starving teenagers and promise another $50,000 if they can interrupt the oil supply enough to get you an extra Dollar for your $239M barrels.  This week, it's a brand new group in Nigeria driving up prices by issuing this ultimatum:
"The Niger Delta Avengers is giving two weeks ultimatum to all oil companies in our region to shut down and evacuates their staff. To international oil companies, this is just the beginning and you have not seen anything yet. We will make you suffer as you have made the people of the Niger Delta suffer over the years from environmental degradation and environment pollution," the group said in a statement signed by spokesman Mudoch Agbinibo.

"If at the end of the ultimatum and you're still operating. We will blow up all the locations. It will be bloody. So, just shut down your operations and leave," it added.

That was just what the oil bull doctor ordered and oil blasted up from $46 to $47.25 (2.5%) on that "news" completing the exact 5% move from $45 and right back to our shorting range at $47 (if it crosses back under).  While a small group of students "incapacitate" dozens of multi-Billion Dollar energy firms and their extensive security forces (and if so, what hope is there against terrorism), the reality is Nigeria is still puttting out 1.7Mb/day of crude, 800,000 of their peak capacity, which isn't nothing but only 1/3 of the 3Mbd global glut we're in at the moement.  
No, this is all theater to drive gas prices up…
Provided courtesy of Phil's Stock World.