FireEye Inc. FEYE is slated to release third-quarter 2017 results on Nov 1. The question lingering in investors' minds is whether this cybersecurity company will be able to post a positive earnings surprise in the to-be-reported quarter. Notably, FireEye has delivered positive earnings surprises for 13 straight quarters. Over the trailing four quarters, the company delivered a remarkable average positive surprise of 63.8%. So, let's see how things are shaping up prior to this announcement.
What to Expect?
The current Zacks Consensus Estimate for the quarter under review is pegged at a loss of 7 cents, which is significantly narrower than the year-ago quarter's loss of 18 cents. We note that the Zacks Consensus Estimate remained unchanged over the past 30 days. Additionally, analysts polled by Zacks project revenues of roughly $186.2 million, almost flat with the year-ago quarter tally.
What the Zacks Model Unveils?
Our proven model conclusively shows that FireEye is likely to beat earnings estimates this quarter. Per our model, a stock with a positive Earnings ESP and a Zacks Rank #1 (Strong Buy), 2 (Buy) or at least 3 (Hold), has higher chance of beating estimates. You can uncover the best stocks to buy or sell before they're reported with our Earnings ESP Filter. FireEye currently carries a Zacks Rank #3 and has an ESP of +0.74%.
FireEye, Inc. Price and EPS Surprise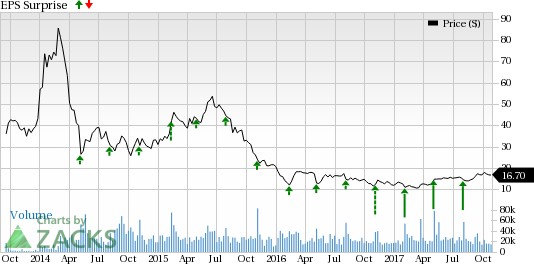 What's Driving the Better-Than-Expected Earnings?
FireEye is a specialized provider of a security platform against cyber-attacks to enterprises and governments. The company's consistent efforts toward bringing in new and advanced products have been attracting a wide range of customers. Notably, FireEye's Essentials product, which is a lower-cost and simpler version of the FireEye Global Threat Management platform, targets smaller and mid-market companies. The company's Cloud MVX and MVX Smart Grid offerings, a lower-cost intelligent threat detection solution, targets large enterprises and mid-market businesses. The analysts covering the stock believe that the company's continued focus on enhancing its product capabilities will bring in new customers, in turn, further driving its top-line performance.
Additionally, last year's acquisition of iSIGHT Partners has strengthened the company's capabilities by offering an intelligence-led security model for enterprises of any size which other security providers find difficult to match. FireEye has also taken over Invotas, a firm specializing in improving response times following a cyber-attack. Its product — Security Orchestrator — is designed to compile information from a range of security products and automate responses when an incident occurs. These acquisitions will likely be beneficial for the company's to-be-reported quarterly results.
Furthermore, the company's move of shifting its business model to subscription-based cloud services from selling software is praiseworthy. Though shifting the business model to subscription-based services will generate lower revenues initially, but the same will be stable over the long run, as organizations usually renew subscriptions with the existing products or even with higher versions. Moreover, subscription-based services generate higher gross margins. We believe, though shift in business model may offset the benefit of higher revenues from product launches and acquisitions, it will support the company's bottom-line results.
Stocks to Consider
Here are a couple of companies which, as per our model, have the right combination of elements to post an earnings beat this quarter:
NVIDIA Corp. NVDA, with an Earnings ESP of +0.53% and a Zacks Rank of 1. You can see the complete list of today's Zacks #1 Rank stocks here.
HubSpot, Inc. HUBS, with an Earnings ESP of +26.53% and a Zacks Rank of 2.
AMTEK, Inc. AME, with an Earnings ESP of +0.18% and a Zacks Rank of 3.
Zacks' Best Private Investment Ideas
While we are happy to share many articles like this on the website, our best recommendations and most in-depth research are not available to the public.
Starting today, for the next month, you can follow all Zacks' private buys and sells in real time. Our experts cover all kinds of trades… from value to momentum . . . from stocks under $10 to ETF and option moves . . . from stocks that corporate insiders are buying up to companies that are about to report positive earnings surprises. You can even look inside exclusive portfolios that are normally closed to new investors.
Click here for Zacks' private trades >>
Want the latest recommendations from Zacks Investment Research? Today, you can download 7 Best Stocks for the Next 30 Days.
Click to get this free report
FireEye, Inc. (FEYE): Free Stock Analysis Report
HubSpot, Inc. (HUBS): Free Stock Analysis Report
NVIDIA Corporation (NVDA): Free Stock Analysis Report
AMTEK, Inc. (AME): Free Stock Analysis Report
To read this article on Zacks.com click here.