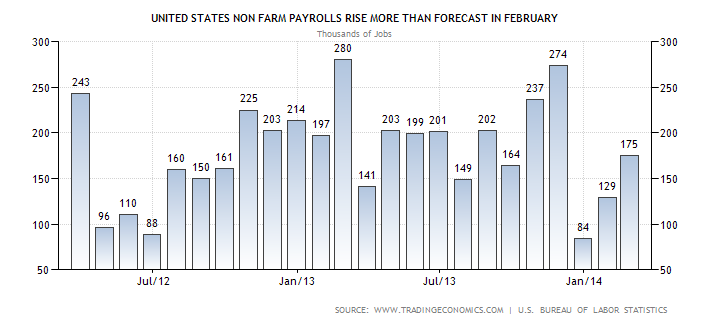 USD seems to be the winner in today's trading as the Bureau of Labor Statistics today reported the employment situation in US in February. Total Non-farm payroll employment increased by 175K in February beating the economists expectations of 151K and the unemployment rate was little changed at 6.7%. US Dollar which suffered from losses against EUR yesterday after the ECB left the rates unchanged, today trimmed some of its losses. Dollar index which measures Dollar against six other major currencies also went up to 79.82 from 79.45. 
Employment basically increased in professional and business services and in wholesale trade but declined in information. As Yellen said Fed would be looking at measures other than the unemployment rate, one of which is number of long term unemployed individuals, it would be better to draw some inference on the basis of that.
The number of long term unemployed (jobless for 27 weeks or more) increased by 203000 in February to 3.8 million. These individuals are 37% of the unemployed. Over the year, it is down by 901000.