PayPal Holdings, Inc. PYPL reported second-quarter 2017 earnings of 36 cents per share, beating the Zacks Consensus Estimate by 3 cents. Also, earnings were up 20% year over year. Revenues of $3.14 billion surpassed the consensus mark of $3.10 billion.
Following the better-than-expected second-quarter results, shares increased 2.2% in afterhours trading. Year to date, shares of PayPal have outperformed the industry it belongs to. The stock returned almost 49% compared with the industry's gain of around 19%.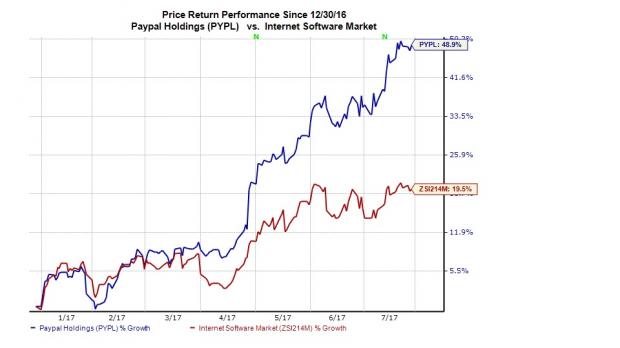 The results were driven by continuous strong performance in global payments, both online and mobile. PayPal added 6.5 million new customers in the first quarter, taking the total active customer accounts to 210 million.
In the quarter, partnership and mobile centrism continued to be PayPal's top priorities.
The company extended its partnership with Alphabet's GOOGL Google to allow Android Pay users on Google Chrome mobile-web to pay to merchants that accept PayPal, using their PayPal account and fingerprint authentication. Further, Facebook FB extended the commerce experience to its Messenger platform with PayPal.
PayPal collaborated with Apple AAPL per which its platform can be used to pay for Apple's services like App Store, Apple Music, iBooks and iTunes across iPhone, iPad and iPod Touch devices. It also extended its partnership with Visa to the Europe.
The company partnered with Baidu to enable Chinese consumers pay with PayPal and Baidu wallet to merchants outside China. Additionally, PayPal partnered with Bank of America per which the bank's issued card will be added to PayPal accounts.
PayPal also partnered with Samsung to allow Samsung Pay users in the U.S. to make purchases wherever applicable. Other notable partnerships in the quarter include that with Citi and JPMorgan Chase.
Also, the quarter witnessed PayPal's accelerated push into mobile with One Touch and Venomo continuing to bolster its stake in mobile payments.
In the quarter, mobile made significant contribution to PayPal's volume growth, accounting for 34% of total payments made on its platform. The company processed around 36 billion in mobile payment volume, up 50% on a year-over-year basis.
Let's delve deeper into the numbers
Revenues
Net revenue of $3.14 billion was up 18.3% on a year-over-year basis (up 20% on an Fx-neutral basis). Also, revenues came ahead of the company's own guided range of $3.05 billion to $3.1 billion.
Transaction revenues of $2.75 billion contributed 88% to total revenue and were up 6% sequentially and 18% on a year-over-year basis. Other value-added services revenues of $387 million contributed the rest and were up 3% sequentially and 18% year over year.
Geographically, the U.S. contributed 54% to total revenue, up 5% sequentially and 20% on a year-over-year basis. International revenues contributed 46% to total revenue and were up 6% sequentially and 16% year over year.
In the quarter, total payment volume (TVP) was $99 billion, growing 26% year over year on an Fx-neutral basis. The company processed 1.8 billion payment transactions, up 23% year over year. Over the trailing 12 months, payment transaction per active account was up 10% to 32.3.
PayPal Holdings, Inc. Price, Consensus and EPS Surprise
Margins and Net Income
Non-GAAP operating margin of 21% was up 110 basis points (bps) year over year but down 60 bps sequentially.
Non-GAAP net income of $554 million was up 27.1% year over year and 3.7% sequentially.
Including special items, GAAP net income was $411 million (34 cents per share) compared with $323 million (27 cents per share) in the year-ago quarter.
Balance Sheet and Cash Flow
PayPal had a strong balance sheet at the end of the second quarter. Cash and short-term investments balance was $4.09 billion compared with $4.06 billion in the previous quarter. The company generated $921 million in cash from continuing operations and spent $174 million on capex.
The company has no long-term debt.
Outlook
For the third quarter of 2017, PayPal expects revenues to grow in the range of 18–20% on an Fx-neutral basis to $3.14–$3.19 billion. The Zacks Consensus Estimate is pegged at $3.12 billion. Non-GAAP earnings are expected to be in the range of 42–44 cents per share. The Zacks Consensus Estimate is pegged at 32 cents. GAAP earnings per share are expected in the range of 30–32 cents.
For 2017, PayPal increased its expectations. The company now expects revenues between $12.78 billion and $12.88 billion compared with its earlier expectations of $12.52–$12.72 billion. The Zacks Consensus Estimate is pegged at 12.70 billion.
Currently PayPal is a Zacks Rank #2 (Buy) company. You can see the complete list of today's Zacks #1 Rank (Strong Buy) stocks here.
More Stock News: Tech Opportunity Worth $386 Billion in 2017
From driverless cars to artificial intelligence, we've seen an unsurpassed growth of high-tech products in recent months. Yesterday's science-fiction is becoming today's reality. Despite all the innovation, there is a single component no tech company can survive without. Demand for this critical device will reach $387 billion this year alone, and it's likely to grow even faster in the future. Zacks has released a brand-new Special.
Report to help you take advantage of this exciting investment opportunity. Most importantly, it reveals 4 stocks with massive profit potential.
(We are reissuing this article to correct a mistake. The original article, issued earlier today, should no longer be relied upon.)
Want the latest recommendations from Zacks Investment Research? Today, you can download 7 Best Stocks for the Next 30 Days.
Click to get this free report
Facebook, Inc. (FB): Free Stock Analysis Report
Alphabet Inc. (GOOGL): Free Stock Analysis Report
PayPal Holdings, Inc. (PYPL): Free Stock Analysis Report
Apple Inc. (AAPL): Free Stock Analysis Report
To read this article on Zacks.com click here.