Since cracking $156 in May, Apple (AAPL) Shares have been in consolidation, then a bearish correction, then another period of consolidation. It is now pushing at the June-July consolidation range resistance around 148.25. A break above this should open up the 156 area and maybe even higher.

AAPL Daily Chart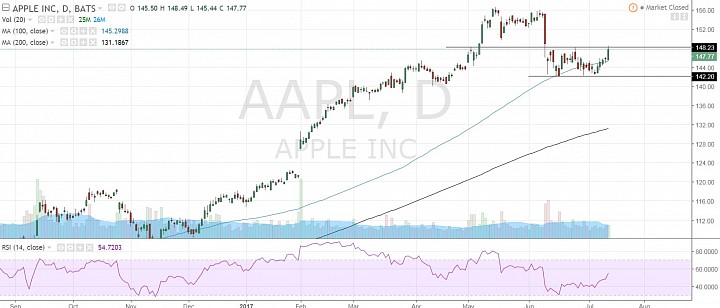 (click to enlarge)

Uptrend Intact:
- The daily chart shows a market whos prevailing uptrend is still intact despite several months of sideways and bearish action.
- For the most part, price is still above the 100-day and 200-day simple moving averages (SMAs).
- Quite simply, the price low at 142.20 was higher than the preivous critical support/low at 140.
- A break below 140 would have signaled a more significant period of consolidation/bearish correction.
- However, without this event, a break above 148.25 could simply continue the prevailing uptrend and at least put pressure back on the 156 high.
- We should watch for when the RSI tags 60. If price and the RSI turns down from at this time, we should anticipate further consolidation/correction because this would indicate maintenance of the recent bearish momentum.