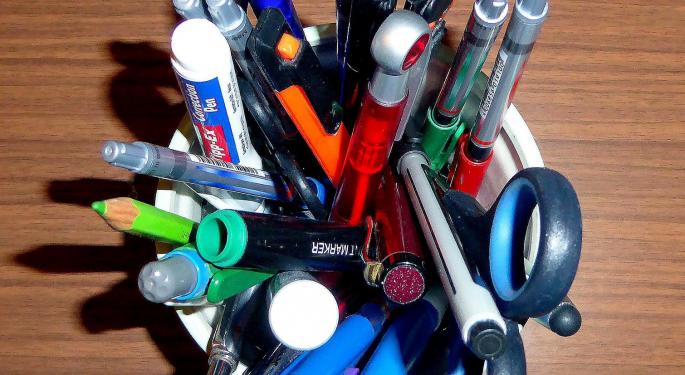 Anthony Chukumba of BB&T Capital Markets was a guest on CNBC's "Power Lunch" segment Wednesday to discuss the pending merger between Staples, Inc. SPLS 18.05% and Office Depot Inc ODP 40.15%, which has now been officially terminated.
According to Chukumba, the termination of the proposed merger represents a "real big setback for both companies" given the "very compelling" strategic and financial rational reasoning behind a combination of both companies.
He continued that since the merger deal is off the table, it's hard to make a compelling investment case for either company. He suggested that while the heavy selling activity in both names may be overblown, it's still hard for a long-term investor to get excited about owning either company.
Chukumba added that Staples will "survive" moving forward, but it won't necessarily "thrive." On the other hand, Office Depot's long-term outlook is "murky," as the company doesn't have the same kind of scale, profitability and balance sheet that Staples boasts.
On the other hand, Amazon.com, Inc. AMZN 1.34% and its business segment will benefit. The analyst noted that Amazon Business is a $1 billion-plus segment growing at 20 percent and adding more business-to-business capabilities.
Bottom line, the analyst argued that it is "clear" that Staples will be around in five to 10 years and "not so clear" the same can be said about Office Depot.
| Date | Firm | Action | From | To |
| --- | --- | --- | --- | --- |
| May 2016 | Jefferies | Downgrades | Neutral | Sell |
| May 2016 | UBS | Downgrades | Neutral | Sell |
| May 2016 | Telsey Advisory Group | Downgrades | Outperform | Market Perform |
© 2016 Benzinga.com. Benzinga does not provide investment advice. All rights reserved.