Achaogen, Inc. AKAO announced that the FDA has accepted its new drug application ("NDA") for its urinary tract infections candidate, plazomicin. The FDA has also granted priority review to the NDA, which will expedite the review process. A decision is expected on Jun 25, 2018.
Shares of the company rose 4.3% on Tuesday. However, Achaogen's stock has underperformed the industry in the past year. It has declined 24.7% against the industry's gain of 7.9% in that period.

The NDA is seeking approval of plazomicin as a treatment of complicated urinary tract infections (cUTI), which includes pyelonephritis (inflammation kidney due to bacterial infection) and also for bloodstream infections ("BSI") in patients who have none or few treatment options available due to multi-drug resistant bacteria.
The NDA includes data from two phase III studies – EPIC and CARE – which evaluated the candidate in serious infections caused by gram-negative bacteria that are resistant to multiple antibiotics.
Data from the EPIC study showed that plazomicin achieved superior microbiological eradication rates in cUTI and acute pyelonephritis patients compared to Pfizer's PFE Merrem. The CARE study evaluated plazomicin versus Colistin in patients with BSI demonstrating lower rate of mortality or serious disease-related complications.
Per the press release, at least 70,000 patients are infected with antibiotic resistant infections annually in the United States and the figure is expected to double in the next five years. This represents a significant potential for plazomicin, if approved.
In a separate press release, the company announce top-line data from a dose-ranging phase I efficacy study evaluating another antibacterial candidate, C-Scape. Data showed that the candidate, a combination of Pernix Therapeutics Holdings, Inc.'s PTX antibiotic, Cedax (ceftibuten) and clavulanate was well tolerated across all dosing regimens.
Achaogen, Inc. Price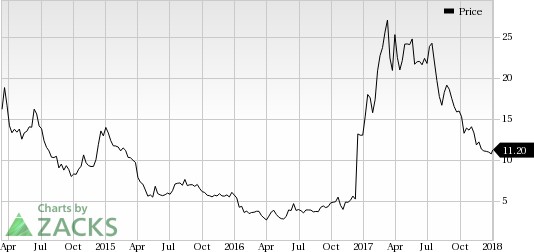 Zacks Rank & Stock to Consider
Achaogen carries a Zacks Rank #3 (Hold).
Corcept Therapeutics Incorporated CORT is a better-ranked health care stock, carrying a Zacks Rank #2 (Buy). You can see the complete list of today's Zacks #1 Rank (Strong Buy) stocks here.
Corcept's earnings per share estimates have increased from 77 cents to 88 cents for 2018 over the last 60 days. The company delivered a positive earnings surprise in two of the trailing four quarters with an average beat of 14.32%. The company's stock is up 146.4% so far this year.
Investor Alert: Breakthroughs Pending
A medical advance is now at the flashpoint between theory and realization. Billions of dollars in research have poured into it. Companies are already generating substantial revenue, and even more wondrous products are in the pipeline.
Cures for a variety of deadly diseases are in sight, and so are big potential profits for early investors. Zacks names 5 stocks to buy now.
Want the latest recommendations from Zacks Investment Research? Today, you can download 7 Best Stocks for the Next 30 Days.
Click to get this free report
Pfizer, Inc. (PFE): Free Stock Analysis Report
Corcept Therapeutics Incorporated (CORT): Free Stock Analysis Report
Achaogen, Inc. (AKAO): Free Stock Analysis Report
To read this article on Zacks.com click here.