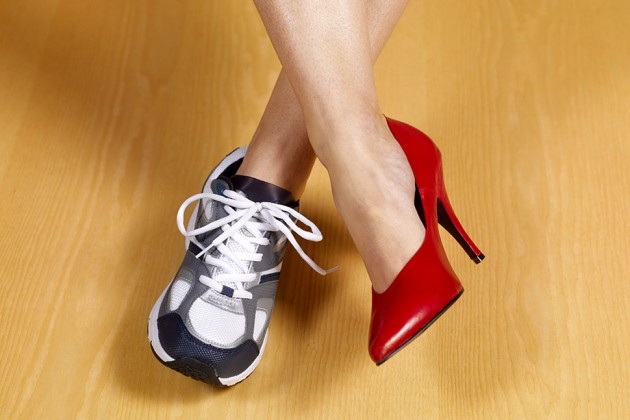 Photograph by Getty Images
A woman's race to a top management position may begin with lacing up sneakers. Three out of four female executives say a candidate's background in sports influences their hiring decisions, a new report found.
The report, released last week by Ernst and Young's Women Athletes Business Network and EspnW, used an online survey to poll 400 female managers on what they thought about women with athletic backgrounds. Half of them were in so-called C-level jobs, meaning they were on boards or had such titles as chief executive officer, chief financial officer, or chief operating officer. It's worth noting that these corporate high-achievers were themselves athletic. A full 52 percent of the C-level women had played a sport at the university level, compared to 39 percent of women at other management levels. Only 3 percent of women in the executive suite said they had never played a sport.
Perhaps because of their athleticism, women at the highest levels of management were more likely than other women to say they would factor in a candidate's athletic background when making a hiring decision. They were also more likely to say women who have played a sport make good employees.
At every level of management, women idolized sports figures over nearly every other type of potential role model. When asked to name three people who had inspired them to become leaders, more executives cited athletes than named family members, celebrities, and government leaders; neither mom nor Miley Cyrus could hold a candle to His Airness, Michael Jordan. To this group, athletes—more than most other members of society—are seen as people with the grit and competitive spirit necessary to rule the corporate boardroom. The only group that drew more mentions than athletes was, perhaps naturally, business leaders.
The study's athletic participants weren't unbiased. It makes sense that, if at some point in your life, you spent hours and hours completing sprints or perfecting a tumble, you'd be inclined to view sports as character-building. Moreover, research has shown that participating in sports provides numerous benefits: Sports are good for your health, they teach teamwork (PDF), and they help build friendships. A potential leg up on the corporate ladder is just the latest benefit to tack on the list. It's also a nice finding for Ernst & Young, which believes that elite female athletes represent "an often untapped leadership pipeline" and has been mentoring such women through its Women Athletes Business Network initiative.
"This study confirms the significant role participating in sports plays in providing the tools necessary to succeed in the competitive world in which we live," Donna de Varona, lead advisor to Ernst & Young's Women Athletes Business Network, said in the report. "Yet again, these results underscore how critical it is for girls to have equal access to sport around the world. When they do, the positive results are undeniable."
Given the relationship between sports and top positions, perhaps it's not surprising that de Varona is herself a two-time Olympic gold medalist.