A stunning 78% of Democrats in New Hampshire view Bernie Sanders favorably in the latest polls. As The Hill reports, Hillary Clinton was viewed favorably by that percentage in April, but that has dropped 15 percentage points among Democrats. With Sanders topping Clinton by a 44 to 37 percent margin (VP Joe Biden garnered 9%), and Trump support among Republicans at 35%, it appears serial lying is not paying off for the Oligarchy (for now)...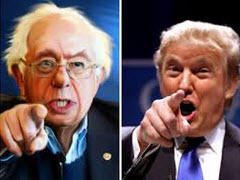 Republican presidential front-runner Donald Trump is dominating the crowded GOP field in the early-voting state of New Hampshire, holding a 24-point lead over his nearest rival, according to a new poll.

 

Trump is supported by 35 percent of GOP primary voters in the state, followed by Ohio Gov. John Kasich (11 percent) and businesswoman Carly Fiorina (10 percent), according to the survey released Tuesday from the left-leaning Public Policy Polling.

 

Former Florida Gov. Jeb Bush and Wisconsin Gov. Scott Walker each take 7 percent, followed by retired neurosurgeon Ben Carson at 6 percent. New Jersey Gov. Chris Christie, Texas Sen. Ted Cruz and Florida Sen. Marco Rubio each have 4 percent, while Kentucky Sen. Rand Paul has dropped to 3 percent.

 

The new poll has found a drop in support for several candidates, including a major drop for Walker (17 points), who has similarly seen his Trump recently steal his lead in Iowa, another early-voting state.

 

Bush and Trump duked it out in New Hampshire last week, before the latest figures were recorded showing only 38 percent of primary voters have a favorable opinion of Bush compared to 41 percent with a negative one.

 

On the Democratic side, Sen. Bernie Sanders (I-Vt.) is leading longtime front-runner Hillary Clinton by 7 points, 42 percent to 35 percent. That's the same margin found in a separate poll in the state earlier this month.

 

Nearly eight in 10 Democrats in New Hampshire, 78 percent, view Sanders favorably in the latest poll. Clinton was viewed favorably by that percentage in April, but that has dropped 15 points among Democrats.

 

While Clinton is ahead 51 percent to 34 percent among seniors, Sanders has a 45 percent to 29 percent advantage among everyone under the age of 65, according to the poll. The two are closer on ideological metrics.
Maybe this is why stock markets are puking? Socialist hell or Tyrannical dollar demise? Take your pick