The "old economy" may be on the verge, if not already in a recession, but the "virtual economy", especially the one connecting the smart phone in your hand to some cloud, is thriving, and as a result Nasdaq is soaring after hours.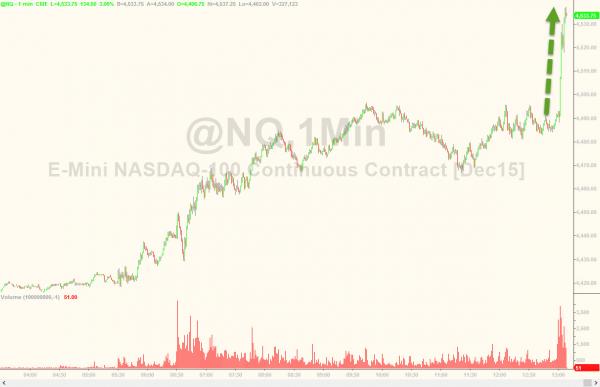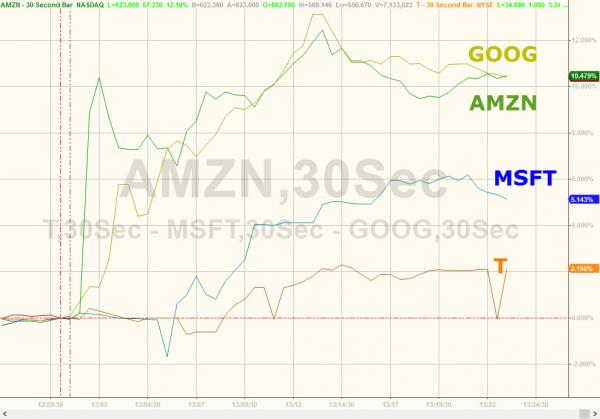 After AMZN, MSFT, AT&T, and GOOG all beat:

The details courtesy of Bloomberg:
Amazon
*AMAZON SHARES RISE MORE THAN 8% IN POST-MARKET TRADING
*AMAZON.COM 3Q EPS 17C, EST. LOSS 13C
*AMAZON.COM 3Q SALES $25.4B , EST. $24.9B               :AMZN US
And here is something remarkable: AMZN had a higher profit on its AWS cloud service ($521MM at a 25% margin) than its entire domestic and international legacy business ($472MM or a 2.0% margin)
Microsoft
*MICROSOFT CORP 1Q ADJ. EPS 67C, EST. 59C
*MICROSOFT CORP 1Q ADJ. REV. $21.7B, EST. $21.0B
*MICROSOFT CORP SHARES RISE MORE THAN 5% IN POST-MARKET TRADING
AT&T
*AT&T 3Q ADJ. EPS 74C, EST. 69C
*AT&T ADJUSTED EPS GUIDANCE INCREASED TO $2.68 TO $2.74 RANGE
*AT&T 3Q ADJ. EBITDA $13.0B, EST. $12.4B
AT&T sees 2015 adj. EPS $2.68-$2.74; saw $2.62-$2.68 (Sept. 29); est. $2.64.
Google
*ALPHABET 3Q ADJ. EPS $7.35, EST. $7.20
*ALPHABET 3Q REV. EX-TAC $15.1B, EST. $15.0B
3Q cost per click (CPC) down 11% y/y vs est. down 7.5% (3 ests.)
3Q paid clicks up 23% y/y vs est. up ~19%
3Q Total ad rev. up 13% y/y, websites rev. up 16% y/y
*GOOGLE SHARES RISE MORE THAN 9% IN POST-MARKET TRADING
October rate hike odds still at 6%.