CVS Health Corporation's CVS third-quarter 2017 adjusted earnings per share (EPS) of $1.50 declined from the year-ago figure of $1.64. However, adjusted EPS beat the Zacks Consensus Estimate by a penny.
The year-over-year decline in earnings was due to disappointing Retail/LTC numbers as well as lower margins.
Without one-time adjustments, EPS from continuing operations in the third quarter came in at $1.26, down from $1.43 in the prior-year quarter.
CVS Health Corporation Price, Consensus and EPS Surprise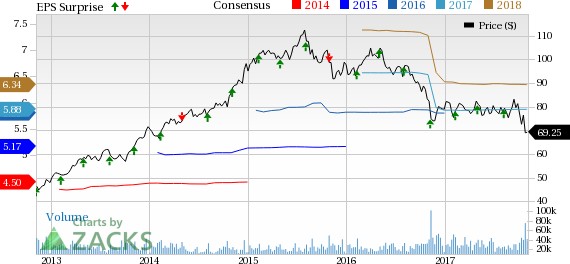 CVS Health Corporation Price, Consensus and EPS Surprise | CVS Health Corporation Quote
Net revenues in the quarter increased 3.5% year over year to $46.18 billion, almost in line with the Zacks Consensus Estimate. Strong revenue growth in the Pharmacy Services segment was partially offset by a decline in Retail/LTC revenues in the quarter.
Quarter in Details
Pharmacy Services revenues increased 8.1% to $32.89 billion in the reported quarter, driven by growth in specialty pharmacy volumes, higher pharmacy network claim volumes as well as brand inflation. This was, however, partially offset by increased generic dispensing and price compression.
Pharmacy network claims processed during the quarter climbed 8.3% to 374.2 million on a 30-day equivalent basis, backed by net new business growth. Also, the Mail Choice processed claim count was 66.9 million, up 6.1% on a 30-day equivalent basis on continued adoption of Maintenance Choice offerings and a rise in specialty pharmacy claims.
Revenues from CVS Health's Retail/LTC dropped 2.7% year over year to $19.59 billion, primarily due to a 3.2% decrease in same-store sales, continued reimbursement pressure and an increase in the generic dispensing rate.
Front-end same-store sales were down 2.8% year over year. Front-store sales were affected by soft customer traffic and efforts to rationalize promotional strategies, which were partially offset by an increase in basket size.
Pharmacy same-store sales also declined 3.4% in the reported quarter. Sales were affected approximately 435 basis points (bps) due to recent generic drug introductions. Also, Pharmacy same-store prescription volumes inched up 0.3% on a 30-day equivalent basis. This apart, marketplace changes that restricted CVS Pharmacy from participating in certain networks had a 420-bps negative impact on same-store prescription volumes.
The generic dispensing rate (the proportion of all generic prescriptions to total number of prescriptions dispensed) increased approximately 100 bps to 87% at the Pharmacy Services segment and around bps to 87.2% at the Retail/LTC segment.
Gross profit dropped 4.9% to $7.12 billion and gross margin contracted 140 bps to 15.4%. Total operating margin in the quarter declined 93 bps to 5.4%.
CVS Health exited the third quarter with cash and cash equivalents and short-term investments of $2.56 billion compared with $2.16 billion at the end of second-quarter 2017. Year to date, net cash provided by operating activities was $8.14 billion, up 1.5% from the year-ago period.
During the third quarter, CVS Health opened 56 new retail stores and shut five retail locations. Further, the company relocated five retail stores. As of Sep 30, 2017, CVS Health operated 9,751 retail stores, including pharmacies in Target stores across 49 U.S. states as well as the District of Columbia, Puerto Rico and Brazil.
2017 Outlook
CVS Health has narrowed its 2017 adjusted EPS guidance to $5.87-$5.91 from the earlier band of $5.83-$5.93.The Zacks Consensus Estimate of $5.88 is within the guided range. However, full-year operating cash flow guidance has been reiterated at the range of $7.7-$8.6 billion and free cash flow at the band of $6.0-$6.4 billion.
For the fourth quarter, the company expects adjusted EPS of $1.88-$1.92. The Zacks Consensus Estimate for the fourth quarter is pegged at $1.91, within the company's projection.
Our Take
CVS Health exited the third quarter on a solid note. However, weak year-over-year Retail/LTC comparisons along with margin decline resulted in a dull earnings performance.
Nonetheless, the year-over-year growth in the top line was driven by a strong Pharmacy Services segment, benefiting from the upside in the specialty services.
Zacks Rank & Key Picks
CVS Health has a Zacks Rank #3 (Hold).
A few better-ranked stocks in the broader medical sector are PetMed Express, Inc. PETS, Luminex Corp. LMNX and Intuitive Surgical, Inc. ISRG. Notably, PetMed and Luminex sport a Zacks Rank #1 (Strong Buy), while Intuitive Surgical carries a Zacks Rank #2 (Buy). You can see the complete list of today's Zacks #1 Rank stocks here.
PetMed reported earnings per share of 43 cents in the second quarter of fiscal 2018, up 79.2% from the year-ago quarter's 24 cents. Also, gross margin expanded 548 bps year over year to 35.2% in the reported quarter.
Luminex reported adjusted earnings per share of 19 cents in the third quarter of 2017, up 216.7% year over year. The company's revenues in the quarter increased almost 4.1% year over year to $74.1 million.
Intuitive Surgical posted adjusted earnings of $2.77 per share in the third quarter of 2017, up 34.5% year over year. Also, revenues increased 18% year over year to $806.1 million.
Wall Street's Next Amazon

Zacks EVP Kevin Matras believes this familiar stock has only just begun its climb to become one of the greatest investments of all time. It's a once-in-a-generation opportunity to invest in pure genius.

Click for details >>
Want the latest recommendations from Zacks Investment Research? Today, you can download 7 Best Stocks for the Next 30 Days.
Click to get this free report
PetMed Express, Inc. (PETS): Free Stock Analysis Report
Intuitive Surgical, Inc. (ISRG): Free Stock Analysis Report
Luminex Corporation (LMNX): Free Stock Analysis Report
CVS Health Corporation (CVS): Free Stock Analysis Report
To read this article on Zacks.com click here.
Zacks Investment Research