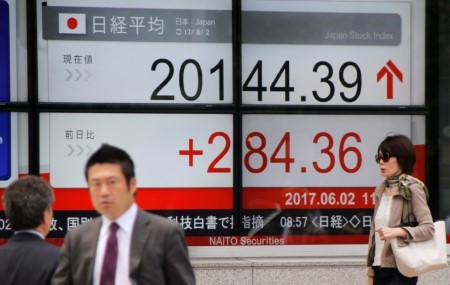 * Dollar pinned near multi-month lows vs range of peers
    * Euro firm, but bulls cautious ahead of ECB on Thursday
    * Asia shares ex-Japan highest in over two years
    * China optimism supports stocks, commodity prices

    By Wayne ColeSYDNEY, July 19 (Reuters) - The dollar stayed on the
defensive on Wednesday as investors  wagered any further
tightening in the United States would be slow at best, while
optimism on China's economy underpinned Asian shares and
commodities.
    The U.S. currency was near multi-month lows after the
collapse of the Republicans' push to overhaul healthcare dealt a
blow to President Donald Trump's ability to pass promised tax
cuts and infrastructure spending. [nL1N1K90GB]
    The diminished prospect of fiscal spending was a boon to
bonds, especially as a run of soft U.S. inflation results had
lessened the risk that the Federal Reserve would need to be
aggressive in removing its stimulus.
    "The question marks over U.S. reform on the one hand, and
the underlying economic growth momentum on the other hand are
likely to keep the U.S. within its current goldilocks scenario
for longer," wrote analysts at Morgan Stanley in a note.
    "Globally, financial conditions tend to improve when the
dollar is weak and vice versa," they added. "The falling dollar
- still the globe's major reserve and funding currency - tends
to see risk appetite flourishing."
    As a result, yields on 10-year Treasury notes...
More