First I want to highlight that you can watch my analyses and trade ideas also on TWITTER (
https://twitter.com/FlexibleTrader
) and you can also watch my LIVE TRADES on YouTube (here). So be sure to check out MY TRADING STYLE in more details!
And now, what is my idea today? Let us dive into my new blog post!
-----------------------------------------------------------------------------------------------------------------
The PRECIOUS METALS
have been in a downtrend since 09/2011 and lost a great deal of attraction for many investors. When analyzing the price action since 04/2013, however, we observe, that these markets tend to be rather rangebound. 
So, have the SILVER and GOLD found their bottoms already?
Let us have a look at the daily charts…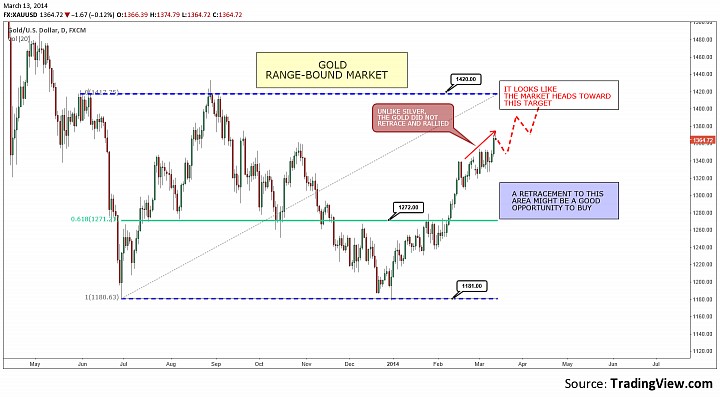 The GOLD is in a "perfect" range-bound mode. The price made a LOW at $1181 (June 2013) and re-tested that by a nice false-break on December 2013. The price has rallied nicely since then and now it seems that the price is heading for the upper range boundary at $1420.
Since no significant weakness has occured within this upmove, technically we can assume a further continuation of the uptrend, at least to $1420, which might be a first important level for closing longs and possible short entries.
The question is, whether it is reasonable to buy now at highs now…
A better scenario for longs might happen, if anything  pushes the price lower. I suppose there would be a nice opportunity to join the uptrend in a highlighted area of $1270 to $1300 above the 61.8 Fibonacci retracement, which is aparently an important level.
As for the SILVER, the chances are far more clear, in my opinion…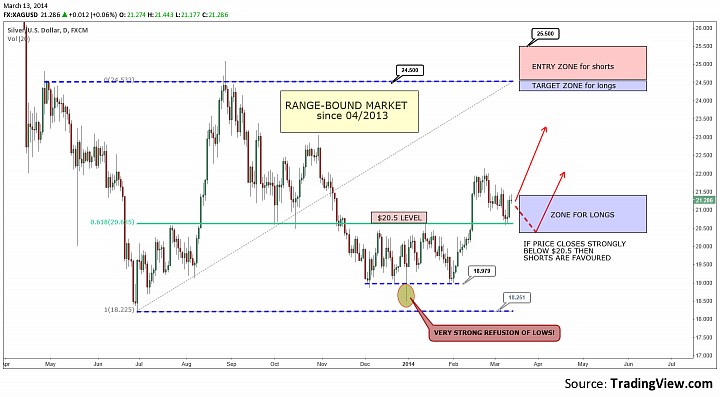 Unlike GOLD, the Silver is in a slight retracement move towards the $20.5 level, which is also a 61.8 Fibonacci retracement. It is now moving inside the highlighted area above $20.5, which might be a potential place for long entries, so look for any kind of strength or confirmation. However, if the price pushes down below $20.5 and closes strongly, the market might be ready for another drop.
Technically assumed I like more silver now, so I am ready to go long around $20.5 or short somewhere in the are $24.5 to $25.5, if the price gets there.
Notice the nice correlation of these two instruments..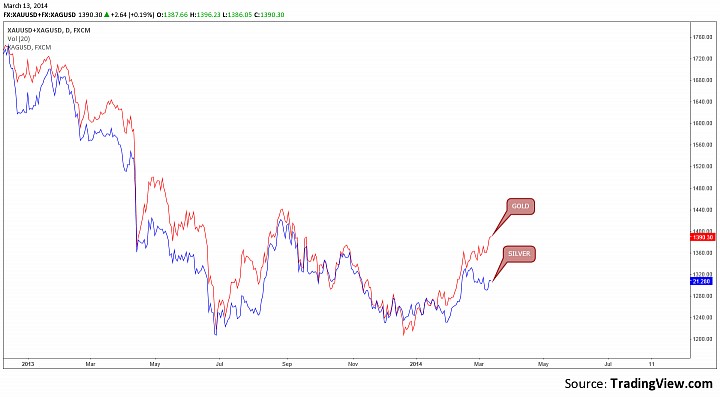 Can you see that nice divergence that appeared recently? If no news or any other fundamental aspect moves the one or the other away, we can expect that these two instruments would tend to get closer to each other, so maybe Silver UP and Gold DOWN? Maybe both in the same direction. What do you think?
As usual, my trading idea is based on a pattern, this time a pattern called "Free Fall 1C", which is a part of an uncoventional trading methodology used in our SMB Capital Forex and Futures Training Program.
For a deeper understanding you can join us on http://www.smbtraining.com/overview/forex-training
or you can watch my LIVE TRADING VIDEOS ON YOUTUBE.
In case of any questions or comments, be sure to send me an email or contact me via other social media as stated below.
Petr Suchanek
Forex, Futures & Options Trader
Email: psuchanek@smbcap.com
Twitter: @FlexibleTrader
StockTwits: http://stocktwits.com/FlexibleTrader
YouTube Channel: http://bit.ly/17jWiog
Training program: http://smbu.us/smbwh