The Reserve Bank of Australia held its official cash rate at the historic low of 2.50% for the 13th month in a row citing below trend growth and a need to spur job growth. RBA governor Glenn Stevens noted:

"The exchange rate, on the other hand, remains above most estimates of its fundamental value, particularly given the declines in key commodity prices. It is offering less assistance than would normally be expected in achieving balanced growth in the economy." (RBA Statement)
He concluded by saying, "On present indications, the most prudent course is likely to be a period of stability in interest rates."
The Aussie looked pressured right before the release of the RBA statement. AUD/USD was retreating from the 0.9374 resistance and May high. After the statement, price did extend below 0.93 but there seems to be no follow through as we get started with the 9/2 European session.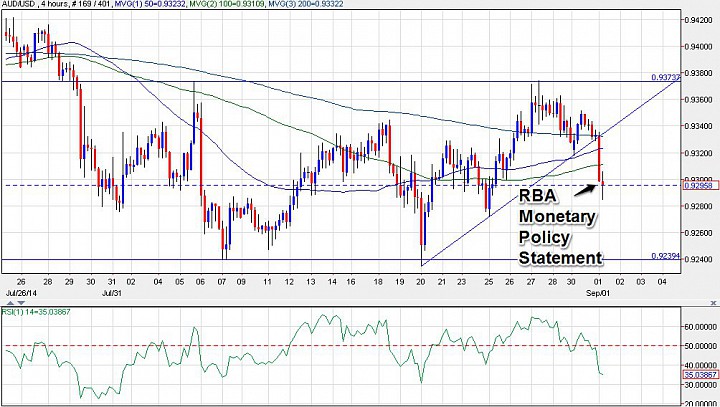 (AUD/USD 4H Chart 9/2)

Now price did break below a rising trendline and the 200-, 100-, and 50-period SMA, while the 4H RSI broke below 40 showing loss of bullish momentum. However, if price can hold north of 0.93, the pressure remains toward the 0.9374 resistance. A break above 0.9375 revives a bullish trend in AUD/USD with upside toward the 0.9505 high on the year.

However, below 0.93, price will be pressured toward the 0.9235-40 low. Below that the 0.92 is a key support since April. A break below 0.92 then can open up a bearish outlook in the AUD/USD, which is now sideways in the medium-term, with a slight bullish bias due to prevailing bullish price action in Q1.