A quick look at the EUR/NZD pair which looks like it may be setting up for a deeper retrace of the down-swing seen in this pair that started back in late August (from 1.7265 down to 1.6070).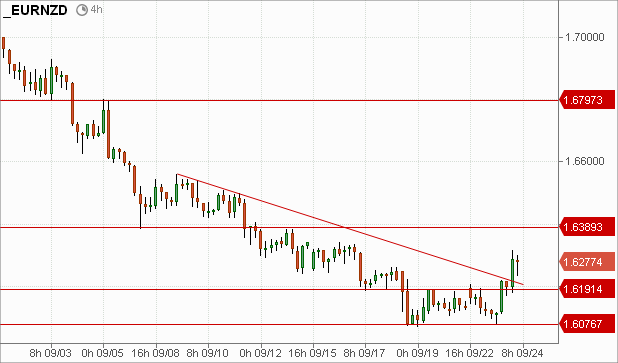 Here are some of my observations:
The pair put in support at 1.6075, retested it and held.

It was then able to move above its short term resistance at 1.6190, establishing the possibility of a double bottom.
We got the double bottom pattern as the pair was able to complete a measured move to the topside.
We have also broke some medium term (in this timeframe) downward sloping trendlines including the one shown above.

In the 1 hour timeframe (not shown here), we have a bullish crossover of the 21 and 55 ema's for the first time since the down-swing started.
This all adds up to the possibility that we may see a further retrace in this pair, and there are plenty of levels to the topside to consider, including multiple horizontal pivots, the 200-ema in this 4hr timeframe, as well as fib retracements.

If we have a push above our recent highs at 1.6320, our first short term target will be 1.6390.

If that is breached, I'll follow up with a further look to the topside for this pair. 
- Nick