The EUR/USD had a strong session today, putting in a high price as of this writing just shy of 1.39. Instead of looking at the shorter-term view, since we are coming up on the end of the year, lets have a look at the wider picture.
<!== INSTRUMENT %% %20000% ==!>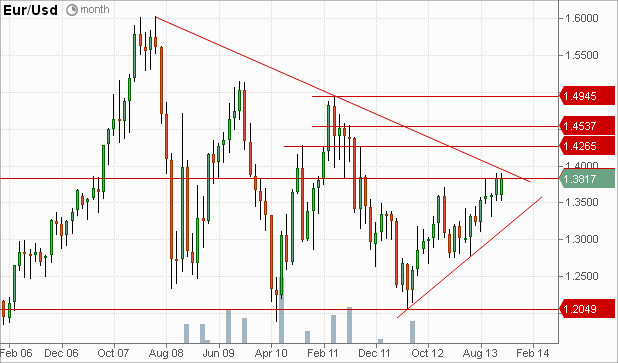 Looking at a monthly (!) chart its evident that the Euro has been in a consistent uptrend since bottoming near 1.2050.
 The pair has also managed to push above its highs from both late October and mid-December, a positive sign for further rally, however, we should be aware of the impact of low liquidity at year-end.

The 1.38 level should now be looked at as an important pivot. If the Euro manages to stay above then there's a chance of further rally.
 Looking at the long term chart, the pair could target 1.40. Something of interest is the downward sloping resistance trendline that connects the highs from 2008 and 2011, which comes in around 1.40 as well.
If 1.40 is broken, then the next upside target would be 1.4260.

However, the macro situation may not be as good for the EUR if the US economy continues to perform well, and tapering proceeds on schedule. That is why I personally do not believe it can get much above that 2nd target, though of course with trading, its all about probabilities, so that is a bias and not a definitive statement. 
We should also keep in mind seasonality factors. While I wrote about the trend for the EUR to do well in December, we can see that past behavior shows that January is one of the poorer months for EUR performance.