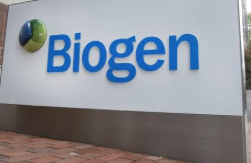 Biogen (BIIB) is up nearly 10% on news that the biotech is a takeover target of both Merck (MRK) and Allergan (AGN). The news appears to good to be true for Biogen investors considering the market value is now over $70 billion. Not only is Biogen a very lofty target considering the White House is not found of either biotechs or large mergers, but also the company has its own growth issues. 
For the hassle of paying up to $100 billion, one has to wonder what Merck or Allergen gets in the deal. Analysts expect revenue growth in the 5% range for the big biotech. Biogen approached $500 last year, but the stock has been on a steady decline as growth slows for key Tecfidera drug.
Merck has annual revenue of nearly $40 billion and no growth, but buying a company with $11 billion in sales and limited growth doesn't appear to solve that problem. For Allergan, the deal makes absolutely no sense considering the pharma company actually has growth in excess of 10%. Of course, these numbers don't account for future drug pipelines and how sales projections would look beyond 2017. 
Financial analysts are surely advising these companies on how debt and synergies could make this deal accretive to the bottom line, but one needs to realize that similar large scales mergers have not worked out in the last couple of years. With Hillary as President, would this deal even get approval?
Disclosure: No position