These are tough times to be in the commodity business. A selloff in the oil market that began in June 2014 has extended to a range of raw materials and is starting to resemble a full-blown meltdown. Investors reacting to weaker Chinese demand and an end to cheap money provided by the Federal Reserve are rushing to sell positions in companies that produce, trade, and ship everything from oil to gold to copper and aluminum. A Bloomberg commodities index that tracks returns from 22 raw materials has fallen 50 percent since a 2011 high and is trading near its lowest level since 1999. Of the 10 worst performers in the Standard & Poor's 500-stock index this year, eight are commodities-related companies.
Monday, Sept. 28, was particularly tumultuous. In the span of a few hours, Alcoa, a 127-year-old industrial bellwether and the largest U.S. aluminum producer, announced it would break into two smaller companies, while Royal Dutch Shell, one of the world's top oil producers, said it was abandoning its drilling campaign in U.S. Arctic waters after spending $7 billion. The carnage culminated when shares of Glencore— the Swiss commodities powerhouse that trades and produces some of the world's most critical raw materials, including zinc and copper—lost nearly a third of their value.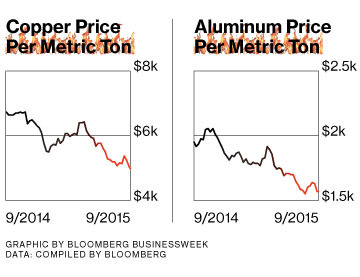 "Fears in the market have intensified," says Ed Hirs, who is managing director of small oil producer Hillhouse Resources and teaches energy economics at the University of Houston. "Lower demand for all commodities seems to have sent everybody off the cliff."
This may only be the beginning. Analysts John LaForge and Warren Pies of Ned Davis Research Group, based in Venice, Fla., say commodities are in the fourth year of a 20-year "bear supercycle." The analysts looked at commodity busts dating to the 18th century and found they're typically driven by market momentum more than supply and demand fundamentals. "In commodities, you're going to get a lot of failures, companies closing up," LaForge says. "This needs to happen to bring down supply." The good news: Most of the damage is done in the first six years.
In a way, commodity producers are simply reaping what they've sown. A decade of high prices, driven by rising Chinese demand, induced billions of dollars in new...
More