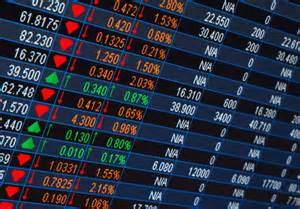 Judging by the stock market performance since the start of the year, it seems the market is really starting to panic about the dollar and interest rates. Stocks had great years in 2013 and 2014, but the major indexes are negative so far this year. The reason seems to be that investors are starting to price in significant downside risk to corporate earnings this year, due to one key factor: the U.S. dollar.
The strengthening U.S. dollar is taking a big bite out of earnings for multi-national corporations. Companies that derive a significant percentage of their revenue from overseas, including almost the entire Dow Jones Industrial Average, are hurt by the rising dollar. This makes international sales translate into fewer U.S. dollars when they are converted back into domestic currency. Now, investors are beginning to really worry about the upcoming earnings season.
As earnings estimates are cut, stocks are falling. Add to this the uncertainty posed by the Federal Reserve's possibly increasing interest rates, and you can see some real panic starting to set in. It's likely the sell-off will continue because of these fears, at least until earnings have the chance to prove them wrong.