Brent Crude fell today from a session high of 108.20 to a session low so far of 106.83. The 4H chart shows that this dip represented oil prices remaining in consolidation, in a descending triangle that has been developing for about a week now. 

(brent crude oil 7/24)
The 4H chart shows that there was a prevailing downtrend from July's and 2014's high of 115.70. The moving averages have been pulled into bearish alignment, and price seems to be trying to trade below them, which would reflect a healthy downtrend since mid-June. The RSI also reflects maintenance of bearish momentum as the 4H RSI reading dipped below and has stayed below 60 since then. If the RSI reading now pushes below 40, it would reflect bearish continuation momentum. With that said, a break below 106.80 should open up the 105.60 level first with further downside risk.
If oil prices do slide further below the 105.60 low on the month, the next support levels are: 
1) 2014-low in the 103.95-104 area. 
2) Nov. 2013 lows around 103.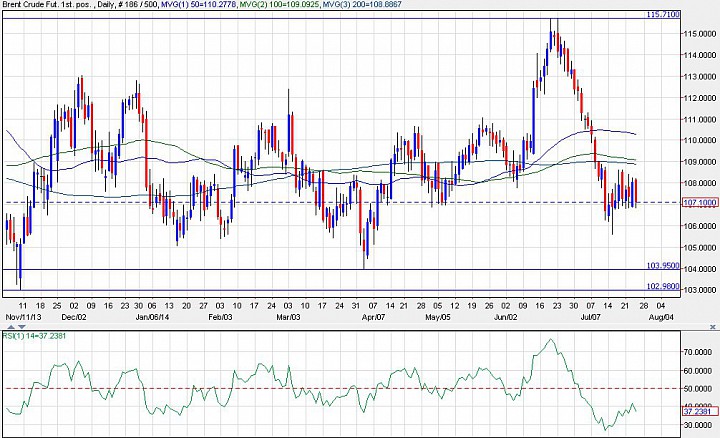 (brent crude oil daily chart 7/24)
The daily chart also reminds us that oil prices are essentially in a sideways market since the end of 2013. Except for the pop to 105.70 - triggered by news of ISIS taking over cities in Iraq - Brent Crude has been ranging roughly between 113 and 103. 
The middle of the range is around 108. Therefore, if price does fall towards the 103-104 support area, look out for buyers to push Brent Crude back toward the 108 "central pivot" area. Look for a bullish divergence on the daily chart with the RSI to give buyers more confidence in the 103-104 area.