SUMMARY
Thanks to improving fundamentals, zinc prices are on the verge of a strong, sustainable run;
Solitario Exploration and Royalty ("Solitario") has a 30% carried interest in the Bongara project, a high-grade zinc deposit in Peru;
Solitario also has a robust portfolio of royalties and other assets; and
Solitario's enterprise value of just US$11 million presents a compelling opportunity.
COMPANY OVERVIEW
Management Team
Christopher E. Herald, Chief Executive Officer, received a M.S. in Geology from the hallowed Colorado School of Mines. Mr. Herald also serves as Chairman for the Denver Gold Group, a not-for-profit industry organization recognized for coordinating the preeminent North American and European gold conferences for institutional investors.
Walter H. Hunt, Chief Operating Officer and Qualified Person, also earned a M.S. in Geology from the Colorado School of Mines and has over 30 years of exploration, development and operational experience with Anaconda Minerals, Noranda and Echo Bay Mines where he served as Superintendent, Technical Services and Chief Geologist at Echo Bay's Kettle River operations.
Share Structure
Issued and Outstanding Shares: 38,995,189*
Options and Warrants: 1,664,748**
Fully Diluted Share Count: 40,659,937
Insider Holdings: ~8%
*On October 28th, 2015, the Company announced a share repurchase program authorizing the purchase of up to two million shares of outstanding common stock through December 31st, 2016. As of March 31st, 2016, the Company has repurchased and cancelled 319,000 shares for an aggregate purchase price of US$150,000 (US$0.47 per share).
**1,624,748 "RMB Warrants" with exercise price US$1.5387 expire on August 21st, 2016.
The company has been around for 20 years and has never rolled back shares. Insiders own ~8% of the company with just 40,000 options currently outstanding.
Working Capital
Working Capital as at March 31st, 2016 = US$17,390,000
Market Capitalization and Enterprise Value
Market Capitalization: US$27.3 million
Fully Diluted Market Capitalization: US$28.5 million
Enterprise Value: US$11 million
Assets
Liquid Assets
Cash
US Treasuries
Certificates of Deposit
100,000 shares of Kinross Gold Corp.
7,240,000 shares (9.97%) of Vendetta Mining Corp.
Royalties
2.0%-4.75% sliding scale NSR on Yanacocha copper-gold properties (Peru)
1.5% NSR on Atna gold properties (Montana)
1.5% NSR on Norcan copper-gold properties (Mexico)
1.5%-2.0% sliding scale NSR on Mercurio (Surubim) gold properties (Brazil)
1.0% NSR on Pedra Branca PGM properties (Brazil)
Exploration Properties
La Promesa Zinc-Lead-Silver Property (Peru)
Pachuca Silver-Gold Property (Mexico)
Bongara Zinc Project Joint Venture
Solitario (30%) carried to production by Compania Minera Milpo ("Milpo") with no participation in any funding costs until cash flow is achieved (Solitario's portion of CapEx paid back from 50% of attributable revenues). All funds expended by Milpo through to the completion of a feasibility study are 100% Milpo's obligation, with no repayment required by Solitario.
3-Year Stock Chart
(click to enlarge)
ZINC OUTLOOK
Demand Driven by China's Infrastructure Sector
According to the National Bureau of Statistics, China's infrastructure spending rose 19% at the beginning of 2016. The International Lead and Zinc Study Group ("ILZSG") forecasts zinc demand from China's infrastructure sector to surge 4.5% in 2016. China is the world's largest zinc consumer with infrastructure spending accounting for roughly 25% of global zinc consumption. As a consequence, global refined zinc demand is expected to grow by 3.5%.
Source: ILZSG
Concentrate and Metal Stocks Expected to Tighten
London Metal Exchange ("LME") warehouse inventories have slid 24% since mid-February to 379,875 tonnes, the lowest since July 2009.
Source: Kitco
Mine Supply and Mine Capacity Expected to Contract
Two of the three largest zinc mines in the world (Century Mine 500 ktpa; Lisheen Mine 175 ktpa) are being closed due to reserve depletion. Glencore is also cutting output at the Mt. Isa and McArthur River mines in Australia. In aggregate, closures and cutbacks will remove at least 1,160,000 tonnes of zinc mine production.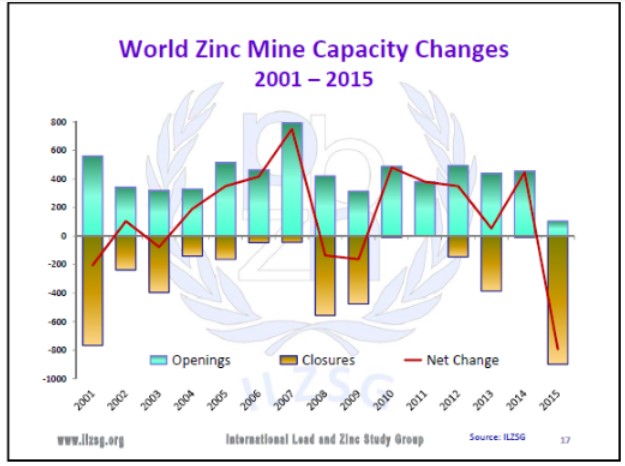 Source: ILZSG
Source: ILZSG
Zinc Price Going Higher
As a result of increased demand and reduced supply, analysts expect a tight concentrate market to emerge in Q3 2016 and a tight refined market to emerge in 1H 2017. Zinc prices appear to be on the verge of a strong, sustainable run higher.
(click to enlarge)
ZINC MINING IN PERU
Globally, Peru ranks third in zinc production after China and Australia as well as third in reserves after Australia and China.
According to The Fraser Institute's 2015 Annual Survey, Peru ranks 36th out of 109 on the global Investment Attractiveness Index and second in Latin America after Chile.
(click to enlarge)
Source: Fraser Institute Annual Survey 2015
Presidential Elections: Positive Catalyst
On July 28th, Pedro Pablo Kuczynski will become Peru's 95th president. He held positions at the World Bank and International Monetary Fund before being designated as general manager of Peru's Central Reserve Bank. He was also involved with investment banks and private equity funds as well as being appointed as President of Halco Mining, an international conglomerate of mining companies headquartered in Pittsburgh, Pennsylvania. Even more relevant to mining in Peru, he has served as Peru's Minister of Energy and Mines. His election to presidency is viewed by the investment community as being very positive for mining in the country.
Provincial Government & Social License at Shipasbamba (Bongara Project Location)
According to SRK Consulting ("SRK"), politically and socially, the development of a mining operation at the Bongara project location is considered low risk as many of the local residents are already employed or seeking employment with Milpo/Votorantim.
BONGARA ZINC PROJECT
History
Prior to the discovery of mineral occurrences by Solitario in 1994, no mineral prospecting had been done on the Bongara property and no concessions had been historically recorded. In 1995 and later, Solitario staked the current mineral concessions in the Bongara project area.
In 1996, Cominco Ltd. formed a joint venture partnership ("JV") with Solitario. Between 1997 and 1999, Cominco completed geologic mapping, geophysical surveys, surface sampling, and 82 diamond drill holes. The partnership was terminated in 2000 and Solitario retained ownership of the property.
In 2006, Votorantim and Solitario formed a JV for the exploration and possible development of the property. As the operator of the JV company, Votorantim has initiated surface diamond core drilling, geologic mapping, surface outcrop sampling, underground exploration drifting and underground drill programs. As of August 15, 2013, Votorantim completed 404 diamond drillholes which, when combined with the previous drilling of Cominco, totals 117,260 m. This was the basis for the initial resource estimate prepared by SRK in 2014.
NI 43-101 Maiden Resource Estimate
The high-grade Bongara deposit contains 3.4 billion pounds of zinc equivalent across all categories. Solitario's 30% share is 1.02 billion pounds.
(click to enlarge)
Source: Bongara NI 43-101
High-grade in situ zinc mineralization is stratabound in carbonates with low impurities in...
More