Hess Corporation HES reported adjusted third-quarter 2017 loss from continuing operations of $1.07 per share, narrower than the Zacks Consensus Estimate of a loss of $1.29 and the year-earlier quarter's loss of $1.12, owing to lower operating expenses.

Revenues increased to $1,666 million in the quarter from $1,196 million a year ago. The top line also surpassed the Zacks Consensus Estimate of $1,279 million on the back of higher oil, natural gas and natural gas liquids price realizations.

Hess Corporation Price, Consensus and EPS Surprise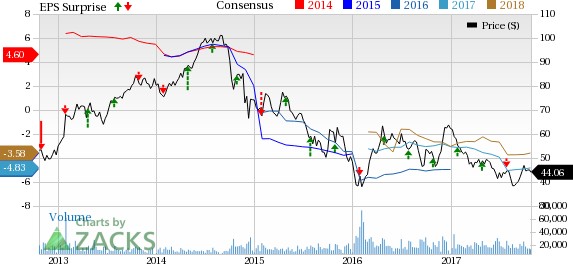 Hess Corporation Price, Consensus and EPS Surprise | Hess Corporation Quote
Q3 Operational Update

In the reported quarter, the Exploration and Production business incurred a loss of $474 million, wider than the year-earlier loss of $234 million.

Quarterly hydrocarbon production was 311 thousand barrels of oil equivalent per day, down 1% year over year. The decrease can be attributed to lower drilling activities along with natural field declines, downtime related to natural calamities and asset sales.

Crude oil production was 172 thousand barrels per day against 190 thousand barrels per day in the year-ago quarter. Natural gas liquids production totaled 43 thousand barrels compared with 45 thousand barrels prior-year period. Natural gas output was 552 thousand cubic feet (Mcf) against 472 Mcf a year ago.

Worldwide crude oil realization per barrel of $46.97 (including the impact of hedging) depicted an increase of 13.2% year over year. However, the average crude oil realization per barrel missed the Zacks Consensus Estimate of $48.86.

Worldwide natural gas prices inched up 4.7% year over year to $3.35 per Mcf. The average worldwide natural gas liquids selling price also increased to $17.22 per barrel from $9.23 in the year-ago quarter.

Operating Expenses

Operating expenses during the third quarter totaled $352 million, down more than 16% in the year-ago expenses of $421 million.

Financials

Quarterly net cash flow from operations was $88 million at the end of the quarter. Hess' capital expenditures totaled $558 million, up 28.9% from $433 million in the prior-year quarter.

As of Sep 30, the company had approximately $2,526 million in cash and $6,592 million in long-term debt. The debt-to-capitalization ratio at the end of the quarter was 31.8%.
Q3 Price Performance

The pricing chart reveals that the company's shares outperformed the industry in the last three months. During this period, the company's shares have gained 1.3% compared with the industry's increase of 8.2%.

Zacks Rank & Stocks to Consider

Currently, Hess carries a Zacks Rank #3 (Hold). A few better-ranked players in the energy sector include Canadian Natural Resources Limited CNQ, Braskem SA BAK and Noble Midstream Partners LP NBLX. All these stocks sport a Zacks Rank #1 (Strong Buy). You can see the complete list of today's Zacks #1 Rank stocks here.

Canadian Natural Resources, based in Austin, TX, is an independent oil and gas company. The company delivered earnings surprise of 22.22% in the preceding quarter.

Braskem, the largest petrochemical operator in Latin America, delivered average positive earnings surprise of 88.17% in the last four quarters.

Noble Midstream Partners, headquartered in Houston, TX, has diversified energy infrastructure properties. The company delivered positive earnings surprise of 30.67% in the preceding quarter.

Zacks' Hidden Trades

While we share many recommendations and ideas with the public, certain moves are hidden from everyone but selected members of our portfolio services. Would you like to peek behind the curtain today and view them?

Starting now, for the next month, I invite you to follow all Zacks' private buys and sells in real time from value to momentum...from stocks under $10 to ETF to option movers...from insider trades to companies that are about to report positive earnings surprises (we've called them with 80%+ accuracy). You can even look inside portfolios so exclusive that they are normally closed to new investors.

Click here for Zacks' secret trade>>
Want the latest recommendations from Zacks Investment Research? Today, you can download 7 Best Stocks for the Next 30 Days.
Click to get this free report
Canadian Natural Resources Limited (CNQ): Free Stock Analysis Report
Braskem S.A. (BAK): Free Stock Analysis Report
Noble Midstream Partners LP (NBLX): Free Stock Analysis Report
Hess Corporation (HES): Free Stock Analysis Report
To read this article on Zacks.com click here.
Zacks Investment Research