To some (mostly those in the 1-10% wealth bucket) the main event today is the iWatch unveiling. To others (mostly those not in the 1-10% wealth bucket) it is the Eurogroup meeting in which the fate of Greece will be discussed and perhaps decided. One thing is certain: virtually nobody will care when the Fed's Mester and Kocherlakota speak later today as the Fed is now - supposedly - set to hike no matter what. Here is what the other main events are for the balance of the week (from DB):
Kicking off Tuesday will be money supply data out of Japan as well as CPI and PPI out of China. Closer to home we've got industrial production numbers for January due in France and Italy as well as the manufacturing print for the former. The calendar picks up a notch in the US with JOLTS, wholesale inventories and the NFIB small business optimism survey all due.
Focus on Wednesday will likely be in the Asia timezone and in particular in China when we get retail sales, industrial production and fixed assets data for February. Machine tool orders and PPI for Japan are also due. It's fairly quiet in Europe with just industrial and manufacturing production for the UK due along with German labour costs and French employment data. The monthly budget statement in the US will be worth keeping an eye on Wednesday.
Focus on Thursday will be in Germany where we get the final revision to the February CPI reading following a +0.1% yoy headline in the last revision. We will also get inflation data out of France as well as UK trade data and Euro-area industrial production. It's a busier day in the US too with the highlight being the February retail sales print. Initial jobless claims, import price index and business inventories are also due.
We close out the week in Japan with industrial production whilst closer to home we see Italian CPI and UK construction output. In the US we finish with PPI and the preliminary March reading for the University of Michigan consumer confidence.
In table format via BofA: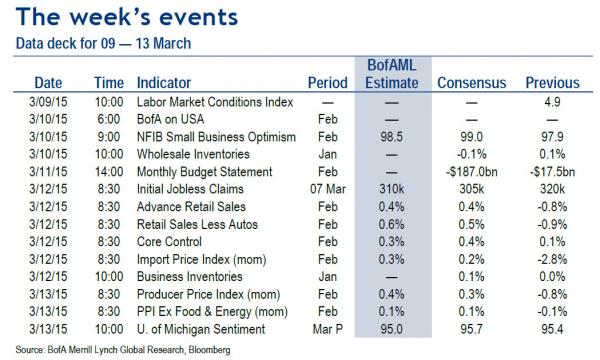 Finally, a more focused on just events in the US via Goldman:
Monday, March 9
10:00 AM Labor Market Conditions Index, February (GS +2, consensus NA, last +4.9)
Despite the strong payroll job gain and the decline in the unemployment rate in February, we think the Fed's Labor Market Conditions Index—which aggregates a broad set of labor market data into a single summary measure—will probably decline. Items weighing on the index: the uptick in jobless claims, weaker labor differential from the consumer confidence report, lower earnings growth, the decline in labor force participation, and a downtick in small business hiring plans.
01:05 PM Minneapolis Fed President Kocherlakota (FOMC non-voter) speaks
Minneapolis Fed President Kocherlakota will speak in Minneapolis, Minnesota, where he will deliver the same speech as on February 3. In that speech, President Kocherlakota argued against hiking rates in 2015. There will be no Q&A.
02:25 PM Cleveland Fed President Mester (FOMC non-voter) speaks
Cleveland Fed President Mester will speak in Washington, D.C. on the economic outlook and monetary policy. She has recently stated that she believes "inflation will gradually move back to [the Fed's] target," and that she "could imagine interest rates going up in the first half of the year." There will be Q&A.
07:30 PM Dallas Fed President Fisher (FOMC non-voter) speaks
Dallas Fed President Fisher will speak at Rice University in Houston, Texas on his 10 years at the Fed. President Fisher will retire on March 19, but his successor has not yet been named. There will be Q&A.
Tuesday, March 10
09:00 AM NFIB small business optimism index, February (consensus 99.0, last 97.9)
After the unexpected decline in small business optimism last month, consensus expects a rebound in February, continuing its recent trend higher. The upward trend since October has likely been partially driven by improved consumer sentiment and lower oil prices.
10:00 AM Wholesale inventories, January (consensus -0.1%, last +0.1%)
Consensus expects wholesale inventories to decline in January. Wholesale inventories have increased uninterrupted since June 2013.
10:00 AM JOLTS job openings, January (consensus 5,039k, last 5,028k)
Consensus expects job openings to continue to trend higher in January. Job openings increased 30% in 2014, with gains seen across most industries. In December, the hiring rate increased by one-tenth to 3.7% and the quits rate held steady at 1.9% for the third consecutive month. Both series have been increasing since the recession, although both remain below pre-crisis norms.
Wednesday, March 11
10:00 AM Quarterly Services Survey, Q4
The Quarterly Services Survey includes data on revenue for service sector firms. The Commerce Department uses this information for estimating services spending in the GDP report. This is the most significant release for Q4 GDP between the second and third revisions.
02:00 PM Monthly budget statement, February (consensus -$187.0bn, last -$17.5bn)
Consensus expects the budget deficit to have widened in February, following its typical seasonal pattern. In the near-term, deficits in February and March will almost certainly increase from January, coincident with a ramp-up in Treasury bill issuance as a result of seasonal cash outflows for income tax refunds.
Thursday, March 12
08:30 AM Retail sales, February (GS +0.1%, consensus +0.4%, last -0.8%)
Retail sales ex-autos, February (GS +0.4%, consensus +0.5%, last -0.9%)
Retail sales ex-autos and gasoline, February (GS +0.3%, consensus +0.3%, last +0.2%)
Retail sales core/control group, February (GS +0.4%, consensus +0.4%, last +0.1%)
We expect core retail sales to rise at a faster pace in February than they did in January. Although service sector business surveys picked up slightly and price effects in the report should be a bit more positive than they were last month, cold and snowy weather probably weighed on sales in some areas. In addition, retailer anecdotes from our equity analysts also suggest a softer February. In other categories of spending, gasoline station sales probably broke their eight-month streak of declines in February, as retail gasoline prices ticked up a bit, while auto sales likely fell slightly.
08:30 AM Import price index, February (consensus +0.2%, last -2.8%)
Consensus expects a modest increase in import prices in February, likely due in part to higher oil prices relative to January.
08:30 AM Initial jobless claims, week ended March 7 (consensus 305k, last 320k)
Continuing jobless claims, week ended February 28 (consensus 2,400k, last 2,421k)
Consensus expects both initial and continuing jobless claims to decline from last week and to print in line with their four-week moving averages.
10:00 AM Business inventories, January (consensus +0.1%, last +0.1%)
Business inventories include manufacturing, wholesale, and retail inventories, but retail inventories will be the only new information contained in this report. Consensus expects a gain of 0.1% in January. Inventory accumulation contributed +0.1pp to Q4 GDP, according to the second estimate, although wholesale inventories released earlier in the week will provide more information.
Friday, March 13
08:30 AM PPI final demand (mom), February (GS +0.2%, consensus +0.3%, last -0.8%)
PPI ex-food and energy (mom), February (GS +0.1%, consensus +0.1%, last -0.1%)
PPI ex-food, energy, trade, February (GS +0.1%, consensus NA, last -0.3%)
Energy prices will likely make a positive contribution to the PPI in February. Core prices should firm vs. January following a one-off drag from medical services. Over the past year, the headline PPI was flat and the core PPI rose 1.6%, both consistent with subdued pipeline inflationary pressure.
10:00 AM U Michigan sentiment (preliminary), March (GS 93.4, consensus 95.7, last 95.4)
Consumer confidence looks likely to have weakened a bit further in late February and early March, probably in part due to an uptick in gasoline prices. In addition to the modest rebound in oil prices from their January lows, a major refinery explosion has contributed to a sharp spike in California gasoline prices. Despite the likely decline in March, consumer sentiment should remain at a strong level.