One of the worst stocks in the market this year has been action camera maker GoPro (NASDAQ:GPRO). Concerns over future growth have led to a number of negative notes from analysts. With this panic spreading like wildfire lately, short interest in the stock has soared. However, I think the street has gotten too bearish on this stock, which could lead to a sizable short squeeze.
Short interest continues to soar
As you can see in the chart below, short interest for the stock has hit a new post-IPO high. At the end of September, almost 22.5 million shares were short, up from roughly 9.5 million just two months earlier. This dramatic increase in short interest has really pressured shares, which hit a 52-week low this past week.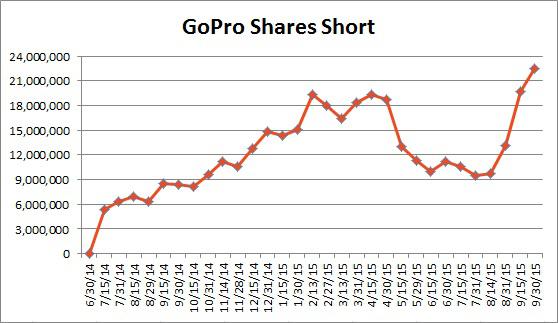 (Source: NASDAQ GoPro short interest page)
According to float data provided by Yahoo, more than 36.6% of the stock's float is now short. That means that GoPro is in the upper echelon of shorted names on the street, which makes it ripe for a short squeeze. Earlier this year, when we saw a major drop in short interest, the stock had a very impressive run.
Estimates on the decline
So why do I think we could see a short squeeze? Well, I think the recent panic has gotten to an unreasonable level. In the past month, we've gotten several negative reports, with these from Morgan Stanley and Barron's being examples. Throughout most of 2015, analysts were scrambling to raise their revenue and earnings estimates. But as you can see in the...
More