The Internet of Things (IoT) market -- which includes wearables, smart appliances, drones, cars, and other objects connected to each other and the cloud -- is expected to be the next growth market for many tech companies. Cisco (NASDAQ:CSCO) expects the number of connected devices to double from 25 billion in 2015 to 50 billion in 2020, while IDC believes that the market will grow from $655.8 million in 2014 to $1.7 trillion in 2020.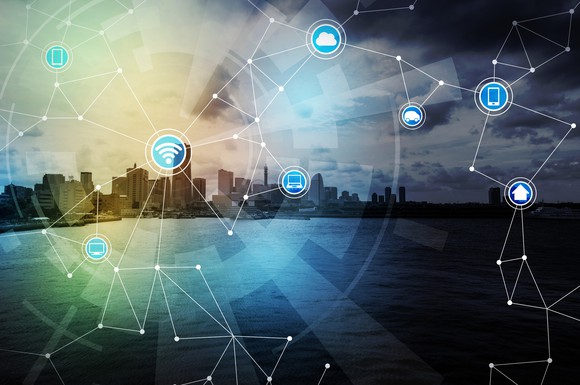 But as the S&P 500 flirts with all-time highs, it can be tough to find any "undervalued" stocks in this space that haven't rallied substantially. However, two IoT stocks can still be considered cheap compared to their industry peers: Cisco and Sierra Wireless (NASDAQ:SWIR).
Cisco Systems
As one of the world's largest manufacturers of routers and switches, Cisco is a straightforward play on a more connected world. But the market for routers and switches is a saturated and slow-growth one. Sales of routers and switches, which account for almost half Cisco's revenue, declined 3% and 5% annually last quarter respectively.
However, Cisco has also been expanding into higher-margin collaboration, service provider video, and cybersecurity services. Those businesses, which were beefed up by various acquisitions, all posted double-digit sales growth and accounted for about 17% of Cisco's top line last quarter. Earlier this year, Cisco acquired IoT service platform provider Jasper Technologies, which became its new IoT Cloud Business Unit. Cisco's core strategy is to bundle these services with its routers, switches, and UCS (Unified Computing Systems) servers to widen its moat against potential challengers in each category.
It's not a high-growth strategy -- analysts expect Cisco's...
More