U.K. factory activity climbs to 10-month high in August
Chinese PMI increased last month to almost two-year high
Signs economies in China and the U.K. were stabilizing lent support to financial markets buffeted by prospects of rising U.S. interest rates.
Mining stocks rebounded in Europe as lead, tin and zinc reached the highest levels in more than a year after an official Chinese factory gauge unexpectedly rose. Shares in Hong Kong climbed to a two-week high and S&P 500 Index futures signaled a two-day slump in U.S. stocks will end. The pound rallied after manufacturing in Britain bounced back from a post-Brexit slump. The dollar advanced against most of its peers while bonds retreated before Friday's payrolls report.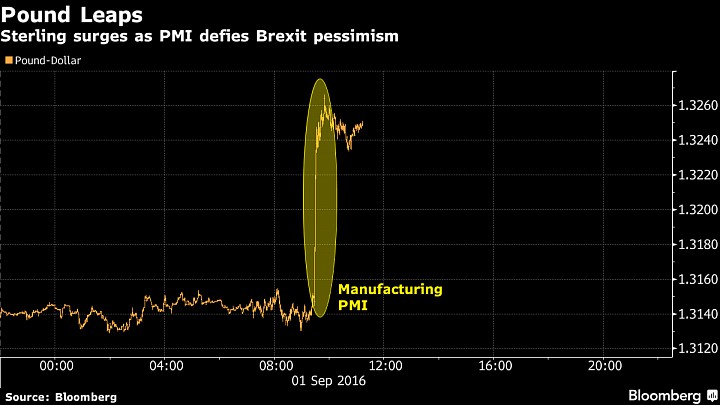 Signs that China's economic slowdown is abating may bolster demand for riskier assets, while a rebound in U.K. factory activity eases concern that Britain's vote to leave European Union will strangle growth. As improving outlooks in Europe and Asia lessen some barriers to U.S. policy tightening, investors will look to payrolls data Friday for clues on whether America's economy is strong enough to withstand raising rates this month.
"The global economy is doing better than a lot of people gave it credit for," said Teis Knuthsen, chief investment officer at Saxo Bank A/S's private-banking unit in Hellerup, Denmark. "Brexit was by no means a catastrophe, the Fed has finally acknowledged that the U.S. economy is doing better than expected, and China hasn't spiraled into some kind of mayhem. It's starting to feel like a risk-on market."
For Bloomberg Intelligence analysis of the private jobs data out Wednesday, click here.
Stocks
The Stoxx Europe 600 Index added 0.8 percent at 8:24 a.m. in New York, with trading volumes 36 percent higher than the 30-day average. Glencore Plc and Antofagasta Plc...
More