With the cessation of drilling for energy amid a short-term abundance of oil and gas, it has been suspected that new quantities supplied will steadily decline. Substantial amounts of natural gas are obtained as the byproduct of oil production and therefore production of natural gas should be in decline for at least two reasons. Its downtrend is in fact continuing, according to US EIA estimates and data.
The drop-off across all of the most important regions is recorded in May estimates for this year. Since then, the total decline in production amounts to 1,356 million cubic feet per day ("mmcf/d"). The deceleration slowed in September's report, but has now resumed with the biggest number of the year: a 294 mmcf/d reduction.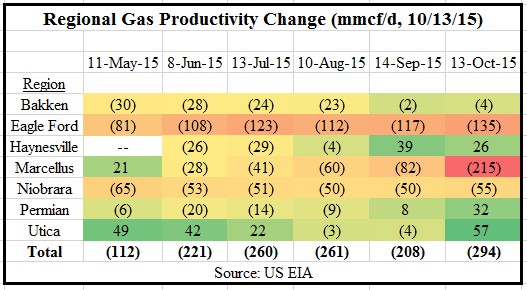 The drop in the Marcellus region (Pennsylvania, Ohio, and West Virginia) perhaps jumps out most of all. It coincides with a modest recovery in the neighboring Utica shale; however, new wells, such as those successfully brought online by EQT Corporation (NYSE:EQT), a premier operator, obviously are not enough to fully offset. The Eagle Ford (Texas) has also decelerated monthly and materially, easily outpacing a slight increase from the Haynesville...
More