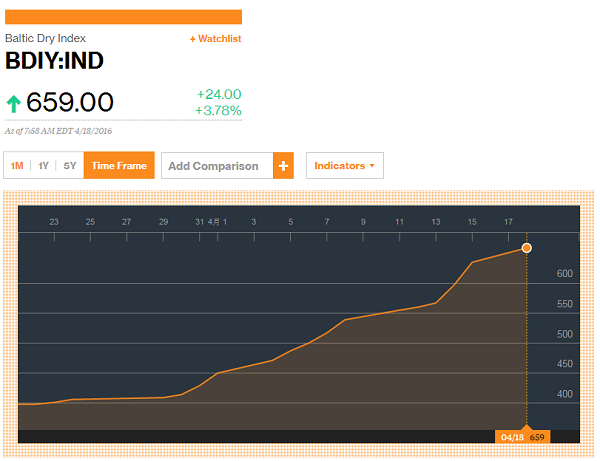 I know right, a word of bearishness from someone who is probably more bullish than anyone in this sector. Paragon Shipping Inc. (PRGN) is expected to announce earnings tomorrow, Wednesday April 20th, 2016. I'm unsure if it's  before or after market. Regardless, be cautious with your expectations for the industry for now. If earnings are bad they will probably affect the price of other shipping stocks like Navios Maritime Partners (NMM), which I am long on. 
Be cautious because the time period that these companies will be reporting on is for the last three months of activity, where as you know, the Baltic Dry Index was still at extremely low levels. Although the index has nearly tripled off the low since then, we will probably continue to see some shakiness in earnings across the sector for some time. Most of the thinking out there seems to be that around BDI 1000 the shipping companies are able to manage their debt load, and at BDI 2000 they are making strong profits and paying that debt down. 
If so, we should see dividends start to be getting paid out again when we get somewhere in that range. Price recovery will naturally follow. The market, being forward looking and probably smart enough to realize this should start to bring the prices up before those earnings come in, but just be prepared to buy more if they don't.