Summary
Habit Burger has unprecedented short interest despite massive accumulation of shares by long-term investors.
The company just broke above 50-day moving average after bottoming over last 6 months.
Is the Street starting to take notice?
The Habit's (NASDAQ:HABT) short interest is at an astounding 4.3m shares on a float of 27.6m shares, or 15.6%. However, by our analysis, if you were to back out the top ten holders in the table below, it leaves an adjusted float of only 15.4m shares. That would really make the adjusted short interest a staggering 27.9%. The stock's daily average trading volume is only 390,000 shares. Further, as reported by Bloomberg as of the latest SEC filings, the continued buildup of long positions continues by many mainstream funds.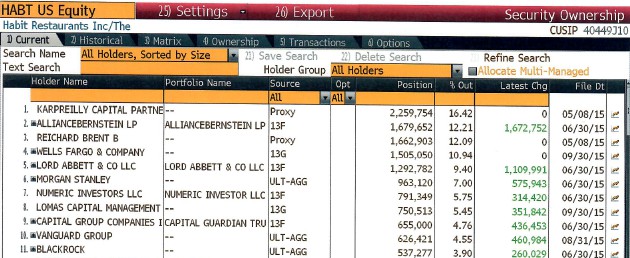 Source: Bloomberg 10/20/15
(KarpReilly was...
More