As you may notice, most of my recent posts are focused on pre-earnings companies. When I was a little kid, I was a huge fan of football (soccer) and, of course, 1997-2008 was an era of Manchester United: 1 European double with League and Champions League cup, 1 Treble with League, FA cup and Champions League and lots of other titles. David Beckham, Ryan Giggs, Paul Scholes, Jaap Stam, Roy Kean and the best ever player "substituting" player Ole Gunnar Solskjær. Nostalgie...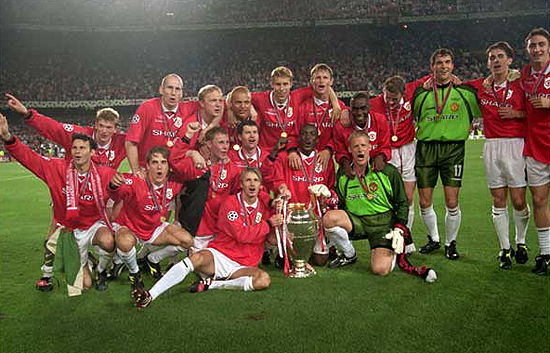 Manchester United went public in August 2012, since that the stock has gone up 19%. It was as high as $19.35 in July 2014, right now the stock is trading around $16.7. As you may know, different sport clubs have a number of revenue sources, including:
Commercial revenue. One of the most important revenue streams that includes sponsorship fees (all the sponsorship fees on the club's equipment in addition to the sponsorship right for the stadium name, different parts of this stadium, various advertising on the stadium and other gains from sponsors), retail and merchandising (all the revenue from selling the company's T-shirts, jerseys, scarfs and other equipment).
Broadcasting revenue. How it works: we have the soccer (or any other sport) association that signs a contract with broadcasting company to show its games. Then based on the performance of different clubs, this association distributes the revenue among all the teams in this association. 
Matchday revenue. Matchday revenue includes not only the revenue from tickets, but also the supplemental services: food and beverage, different souvenirs etc. The club doesn't do itself, it just rents the space to different companies that will provide all the necessary services. 
Manchester United is going to announce its earnings tomorrow after the closing bell. Let's check the club's performance this season and see, what we should be waiting from their earnings. 
FA Premier league has a certain revenue distribution: 
equal distribution of TV rights: every club will get around £54.1 million;
Merit money starts with £1,236,083 for the 20th place and £1,236,083 will be added to each position rising up the table;

Facility fee depend on how many times clubs match is shown live on tv in UK.

So we can roughly check how much money Manchester United will make this seas in total in general and this quarter in particular. This season will bring Manchester United:
£54.1M of TV rights;
£19.8M merit money. Manchester United will most likely keep its 5th place (one game left this season, 1 point higher than West Ham, 2 points lower its main competitor - Manchester City);
£21.8M Manchester United matches will be shown live the most number of times in UK with total 26 times which means they will get £875,000.
So we get around £95.7M for the whole season from Broadcasting revenue. As you may know, Manchester United finished its Champions League campaign on the third place in the group and it means that they spent this spring in Europa League. They passed the first playoff round, but Liverpool knocked them out in the second. In total this quarter, Manchester united played 4 games in international cup. As soon as Manchester United was knocked out from round of 16, it will get €750K + €500K for the previous round. This is the Fixed Reward for participation.
According to UEFA rules, each country league that has a representative in UEFA Europe League or in Champions League gets a certain amount from the so-called Market Pool money. FA Premier Leagues distributes this revenue by the following scheme - higher your team is in final ranking, more money you will get. 
Previous season, Liverpool was knocked from the group stage and received £21.6M. As far as the UEFA market pool was increased from from €409.6m to €482.9m at the beginning of this season, at least the same increase FAPL will get this season from UEFA. The only difference is that Man City went as high as semi-finals of Champions League this season, however all the English clubs were knocked out from the first round last season. Moreover, Liverpool got it well this season and will play into the Europa League Final, however last season all the English clubs were also knocked out from the round of 32 (first playoff round Europa League). 
So I assume that the total remuneration that FAPL will get this season will be way higher than last year. I think that the total amount will vary between €105M (£78M) and €125M (£93M). As far as we know that the English club performance was much better than the last season, I expect that the total compensation could be closer to £90M that would be distributed among the english clubs participated in the international cups. So Man City was the best club in international cup, so it will get up the greatest amount of money while Man United was among the worst ones. According to the previous UEFA distribution cycle, the best team received around 25% of total amount received by FAPL. In conclusion, I assume that Man United will get around £8-10M from UEFA. This final amount need to be confirmed. 
This market pool most likely will be distributed in the next quarter, so I won't take it into my calculations for this quarter. 
Q2 report

Everything is up and sounds really great, but the Q2 for all the football clubs playing in Champions League is always that good. Especially with new UEFA revenue distribution and increasing the fixed payments. So we will use this to start analyzing what we could wait from their Q3 report. 
Q3 outlook
Now we need to check the average attendance of MU games in this quarter and check the average Matchday revenue from the last quarter. According to previous reports, Q3 revenue from the Matchday is always dropping 20-30% every year. This year won't be an exception. 
According to their financial data, the club earned around £30,376K from the Matchday services last quarter, which is equal to around £1.8M per game (17 games). In January-March the team played 19 games, but most of them were in premier league. It means that it got less money than it could get from the games in Champions League. As far as they still played 4 games in Europa League, I assume that the drop in Matchday revenue won't be that big, especially taking into consideration that MU was 4th last season and 5th this season. Not a big difference (MU fans till want to get more than that!). I think that the revenue from the Matchday business will be around £1.3M per game which is equal to around £24M in total. 
As soon as Manchester United signed a new agreement with Adidas instead of Nike started in August last year, its commercial revenue is going up on y-o-y basis. However, we always see the slowdown in commercial revenue as well (insignificant growth actually), so I think that Manchester United would get around £64.5-67.5M from the Commercial revenue stream. 
So now we have the last line left - Broadcasting revenue. As I mentioned above, the club will get around £95.7M from FAPL during this season. The scheme here is really simple, more international games, more home games, much money the company could get. The company had 9 home games this quarter compared to 8 last quarter, 4 international games in Europa League compared to 6 in Champions League, so I can make an assumption that we will have a significant drop in Broadcasting revenue. Not as significant as it was last year, because the last season that club didn't compete in any European competitions. I assume the Broadcasting revenue around £28-33M.
So the overall assumption is that the revenue will be around £116.5-124.5M. As far as the changes in margins are more or less the same on q-o-q basis (around 25-35% in Q3 and around 40% in Q2), I assume that the adjusted EBITDA will be around £35-40M.
Here is my rough assumptions prior their earnings. Let's take a look what analysts are waiting for.
Analysts estimates
The revenue consensus is £126.6 which is a little bit higher than my assumption:

(Source: Financial Times)
Conclusion
I assume that the company won't beat the analysts estimates, most likely it will report in line what analysts forecast. So I don't think that you can make lots of money on this stock after earnings. 
As a football fan I can tell you that Manchester United experiencing some troubles right now that's why it's definitely not the best investment choice right now. The company has some troubles battling for the 4th place allowing to play in Champions League next season. Hence if they stay on 5th place, they'll miss some good earnings from Champions league next season.