Signs of a healing economy have been nothing to celebrate in the U.S. stock market.
On a day when industrial production, housing starts and consumer inflation all exceeded forecasts, the Dow Jones Industrial Average tumbled 181 points, posting its fifth swing in six days of at least 1 percent. The selloff worsened as a pair of Federal Reserve officials played up the odds of at least two interest-rate increases this year.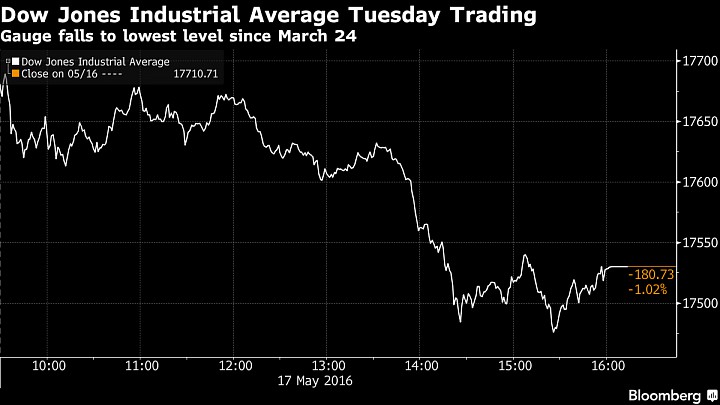 Turbulence is back in a market that before last week had seen only one drop of comparable size since February and where conventional measures of volatility have been stuck below historical averages. Tuesday's cocktail of improving economic data and Fed hawkishness proved particularly hard to swallow.
"It became evident that Fed governors were out there banging the drum for higher interest rates," said Walter "Bucky" Hellwig, who helps manage $17 billion as senior vice president at BB&T Wealth Management in Birmingham, Alabama. "We haven't seen a lot...
More