Investment idea - Ross Stores

3 march 2015
Ross Stores (ROST) is the third-largest US chain of off-price department stores. The company owns different brands, such as Dress for Less and dd's Discounts.
Ross recently published strong financial report for Q4 2014. Revenue increased by 10.6% y-o-y to USD 3.0 bn, outpacing the consensus by 3.5%, due to the increasing popularity of low-cost brands among US consumers. LFL sales rose 6% due to a slight increase in traffic, as well as a noticeable increase in the average bill. EBITDA margin climbed 0.4 pp to 15.2%. Adjusted EPS was up 17.6% y-o-y to USD 1.20, outstripping median forecast by 8.2%. The company opened 86 new stores and expanded its chain to 1,362 stores.
Ross closed the year with USD 697.1 in cash and cash equivalents on the accounts, long-term debt amounted to USD 398.4 mn. The company generated operating cash flow worth USD 1,373 mn over the year, thus allowing it to spend USD 168.5 mn to pay dividends and USD 550 mn to buy back its own shares and complete its two-year program buyback program started in January 2013. At the same time, the Board of Directors launched a new two-year buyback program worth USD 1.4 bn and raised quarterly dividend to USD 0.235 (+17.5% q-o-q), matching a 0.9% dividend yield.
Strong financial results in Q4 allowed Ross to revise up its own guidelines for 2015. Annual EPS is expected to reach USD 4.60-4.80, up 4.1-8.6%, compared to USD 4.42 in 2014. LFL sales will increase by 1-2% y-o-y.
Given the growing popularity of discount brands among Americans and effective in the current difficult economic conditions business model of Ross, we expect the company to increase its revenue and profits in the coming quarters. We raised our target price of Ross shares to USD 115 and assign a Buy recommendation in the mid-term. The short-term technical target is USD 110.
<!== INSTRUMENT %% %1440% ==!>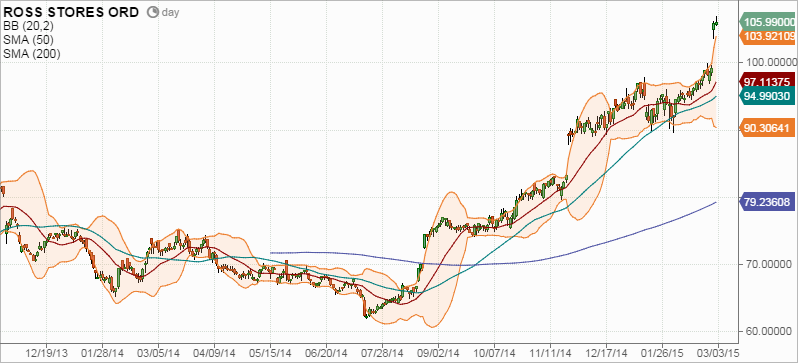 Voting is over
Waiting for


the right answer