DPS produced Q1 2016 financial results which were very strong.
Cash flow and operating income performance were particular highlights.
Volumes in core packaged beverages segment did soften however.
Future quarters keep an eye on volumes and how "sticky" earnings and cash flow improvements are.
Dr Pepper Snapple (NYSE:DPS) really has begun to fascinate me after I noticed I had often overlooked it for its larger peers Coca-Cola (NYSE:KO) and PepsiCo (NYSE:PEP). Dr Pepper Snapple's almost exclusive focus on the US market (and, indeed, the North American market generally) really appeals to me:
Why? Well, in the immediate term it means that its exposure to the strong USD is more limited than its peers. Yet this is not the main appeal. Put simply, its appeal is because it has extensive opportunities for international expansion even if the actual timescale of this is indeterminate.
That is, however, something that will unfold in time. At Q1 time, there was little movement on the geographical diversification front. Yet results looked pretty good to me, with one caveat. Let's see what I mean.
Revenue
First off, reported figures looked pretty good with robust revenue and strong operating income growth in the quarter: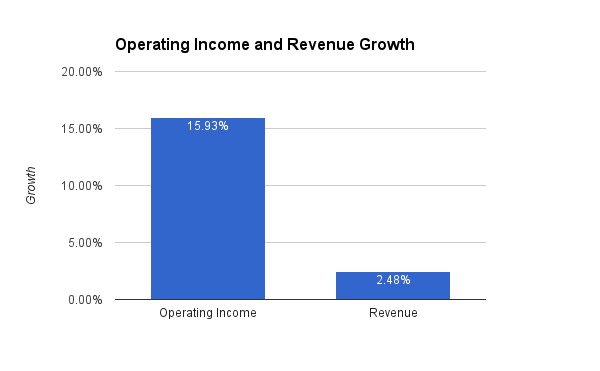 Yet when we look at currency neutral results it is clear that revenue performance was even more impressive:
Although its exposure to non-USD currencies is limited, that exposure had a pretty hefty effect on its rapidly growing Latin America Beverages segment. Its relatively small-scale, however, meant that's it impact on reported results was capped significantly.
Yet it was on the earnings front that things really impress from Dr Pepper Snapple.
Earnings Leap Up
Reported and currency-neutral earnings saw a massive leap in the quarter:
It is not hard to discover the outperformer on this chart. Usefully, Packaged Beverages remains by far the largest segment at the company at over 73% of revenues:
A leap of 24% in operating income is therefore even more...
More