Here's the latest OECD projections that came out today: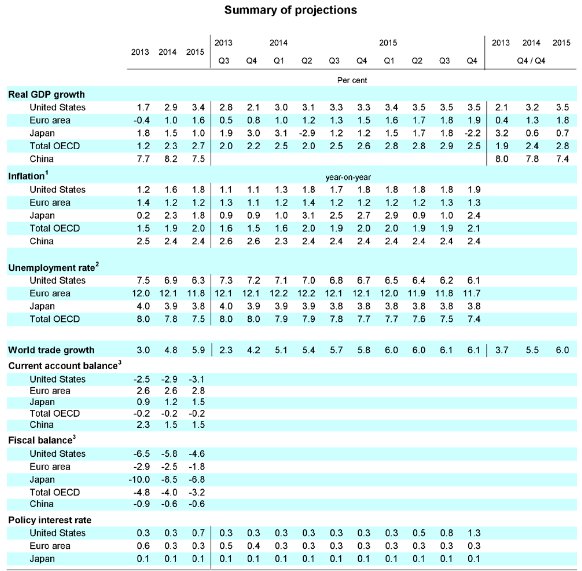 Here's some context for the table from the NYTimes:
"In its twice-yearly assessment, the organization portrayed a world slowly recovering but still highly vulnerable to shocks. Global growth will be 2.7 percent this year and 3.6 percent next year, the O.E.C.D. estimated, almost half a percentage point less than previously predicted.

For the United States, the O.E.C.D. forecast an expansion of 2.9 percent next year after 1.7 percent this year, also a slightly more upbeat forecast. But the O.E.C.D. said that growth in China, estimated now at 8.2 percent next year after 7.7 percent this year, would be slower than it forecast in May.

However, China was relatively immune to the financial turmoil that hit other emerging countries, the O.E.C.D. said. In May, the O.E.C.D. had forecast growth next year of 2.8 percent for the United States, 1.1 percent for the euro area and 1.4 percent for Japan. It said China would grow 8.3 percent next year."