"If you can't beat 'em, join 'em" seems to be the clarion call from many in the markets as traders who should, and do, know better, hold their noses, pluck out their eyes, plug their ears and buy stocks with both hands and feet. As former fund manager Richard Breslow noted this morning, there's something different with this equity rally.
Different indeed...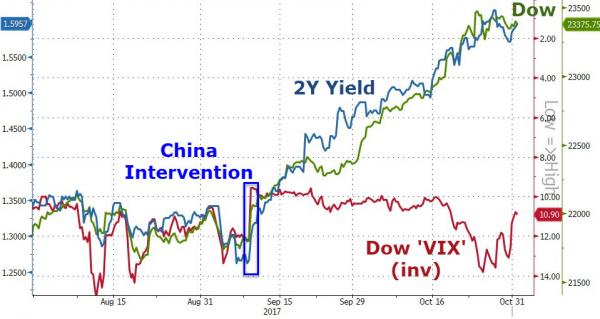 Via Bloomberg,
The first thing I thought of after watching the markets trade today was, "boy this is going to hurt." Oh, and that I would have to get additional toner because the almost universal sea of green on my equity screens is using up a lot of one color of ink. I realize everyone hates them, but what a waste of an opportunity watching the ship sail further and further away without you.
But today does feel a little different.

You're not seeing headlines that say things like, Asian stocks are mostly up following New York indexes. You see Nikkei 225 absolutely flying as reported earnings surprise strongly to the upside. And it's not limited to Japan. Korea's Samsung rose to an all-time high after "a leadership reshuffle and increasing dividends amid record profits." It's not even just tech (Sony), the Hang Seng was led higher by insurers and casinos on "October revenue data." The MSCI Asia Pacific Index has been moving higher impulsively.

European shares didn't sit back and watch their Pacific counterparts have all the fun. They're adding to the "longest winning streak in a month, with Nokian Renkaat leading gains in auto shares after its earnings." I'll bet you've never even heard of NRE1V.

As the Bloomberg Commodity Index goes into hyper-drive, mining stocks are following. Metals prices do this when demand is strong, i.e. economy is expanding. It may not be a coincidence that Swiss manufacturing PMI surprised to the upside as they catch some European tailwind.

As my colleague Courtney Dentch pointed out, both year-over-year improvement in results and earnings upside surprises are running at quite a high pace for the S&P 500 companies that have reported so far. The E-Mini future printed an all-time high this morning after a night of steadily rising. I know it's natural to be skeptical about all things Washington, but if earnings are going to propel prices higher, you have to put politics, and apparently tax policy, on the analytical back-burner until something breaks. Despair not, one day it'll happen.

We can have all the debates we want about stretched valuations and the like. We can agree the Fed has prompted some fiercely aggressive investing (euphemism). That's all fair. But if demand and earnings keep rising we'll have to reconsider a world view where most people see the glass as half-empty.

And it also will explain why the Fed has been able to embark on a series of dovish hikes. Who knows, they really might be behind the curve.
Breslow ends on with a darker tone still with a note to would-be sellers: it's not a viable investment thesis to hope the boat sinks just because you failed to get on board.
Agreed, but sometimes hubris comes right before the fall...