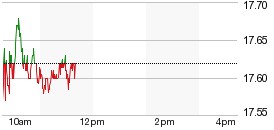 CHARLOTTE, N.C.--(BUSINESS WIRE)--
Bank of America today announced it will report third-quarter 2015 financial results on Wednesday, October 14. The results are scheduled to be released at 7 a.m. ET, followed by an investor presentation at 8:30 a.m. ET.
The live audio webcast, accompanying presentation and other earnings-related information will be available through the Bank of America Investor Relations website at http://investor.bankofamerica.com. For a listen-only connection to the conference call, dial 1.877.200.4456 (U.S.) or 1.785.424.1732 (international), and the conference ID is: 79795. Please dial in 10 minutes prior to the start of the call.
A...
More